The Commission on Higher Education (CHED)has released on Tuesday, March 25, 2014 the official list of in-demand and priority college courses for A.Y. 2014-2015 and A.Y. 2017-2018.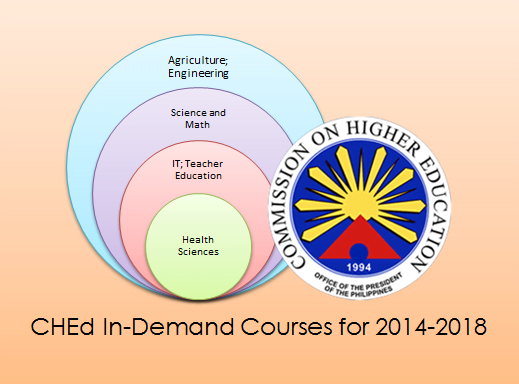 CHED encourage incoming freshmen students to enroll on these priority courses particularly the qualified beneficiaries of CHED Student Financial (–foul word(s) removed–)istance Programs (StuFAPs) as mandated by the national office.
Based on the Interagency meetings conducted last September 30 and October 24 of 2013, the representatives from the Department of Labor and Employment (DOLE), National Economic and Development Authority (NEDA), Philippine (–foul word(s) removed–)ociation of State Universities and Colleges (PASUC), and Philippine (–foul word(s) removed–)ociation of Colleges and Universities (PACU) has agreed that the following priority courses must be followed within the next five years.
Related Post: CHED Scholarship Application & Requirements: How to Apply
According to the list revealed earlier, agriculture,  engineering, science and math, information technology (IT), teacher education, and health sciences are among the in-demand and priority courses for A.Y. 2014-2015 and A.Y. 2017-2018.
Here's the official list of in-demand college courses for 2014-2018:
1. Agriculture and Related Fields (15%)
Agro-Forestry
Veterinatry Medicine
Agricultural Engineering
Agribusiness/Management
Agricultural Entrepreneurship
Agricultural Technology
Agriculture
Fisheries
BS Food Technology
Agricultural Economics
2. Engineering (15%)
Mechanical
Electronics
Communication
Metallurgical/Mining
Computer
Biomedical
Chemical
Geodetic
Electrical
Meteorological
Mining
Goelogical
Sanitary Engineering
Chemical Engineering
Industrial Engineering
Civil Engineering
Electronics and Communication Engineering
Petroleum Engineering
Bio Chemical Engineering
3. Science and Math (13%)
BS Mathematics
BS Physics
BS Biology
BS Chemistry
BS Marine Biology/Science
BS Applied Physics
BS Geology
BS Earth Science
BS Applied Mathematics
BS Statistics/Applied Statistics
Atmospheric Science
Environmental Science
4. Information Technology (10%)
Information Technology and Computing Studies
Multimedia
Animation
Programming
Computer Science
Information System Management
Bachelor in Library Science & Information System Major in System Analysis
5. Teacher Education major in (10%)
Mathematics
Science
Physics
Chemistry
Reading
English
Educational Media/Technology
Special Education (SPED)
Human Kinetics
Physical Education and Sports Science
Bachelor of Physical Education major in School PE
Early Childhood Education
Environmental Planning (for teachers)
MAPEH
Music Education
Art Education
Health Education
6. Health Sciences (10%)
Pharmacy
Radiology Technology
Medical Technology
Physical Therapy
BS Nutrition
7. Arts and Humanities (5%)
Creative and Performing Arts
BS Religious Education
BS Philosophy
BS Theology
8. Social and Behavioral Sciences (5%)
BS Psychology
BS Social Work
Human Development
Guidance and Counseling
9. Business Administration and Related Courses (5%)
BS Accountancy
Business Data Outsourcing
Business Process Outsourcing
Construction Management
Tourism
10. Architecture (5%)
BS Architecture
Landscape Architecture
Interior Design
Environmental Planning
Fine Arts
Urban Planning
11. Maritime (2%)
12. Communication (2%)
BA Communication
BA Journalism
BA Broadcasting
BS Development Communication
13. Others (to be determined by each Regional Office)
Photo Credit: localpulse.net
Source: ched.gov.ph
comment(s) for this post "CHED: List of In-Demand College Courses for 2014-2018". Tell us what you think abut this post by leaving your comments below.