Kapamilya actress Denise Laurel revealed the details of her upcoming wedding during an exclusive interview with Pep.Ph on Saturday, March 15, 2014 her wedding plans with fiance Solomon Mercado, the PBA player and long time boyfriend of the actress.
The interview was conducted during the finale press conference of the top-rating series Annaliza which was held at the 13th floor of the ELJ Building in Quezon City.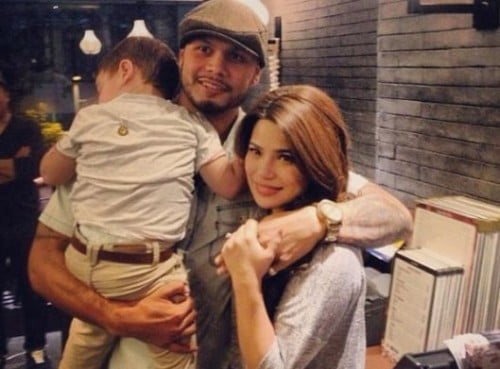 Solomon Mercado & Denise Laurel (Photo:Interaksyon.com)
Aside from giving some important details regarding her wedding with the San Miguel Beer guard, Solomon Mercado, Denise Laurel also showed her precious two-carat diamond engagement ring given by her boyfriend during their engagement.
The 26-year-old actress also recalled the time when Sol Mercado proposed to her which according to the actress never expected but conclude that she couldn't regret Mercado's offer because she noted that she is also ready this time around to settle down.
According to the "Annaliza" star, Denise Laurel, her wedding with Solomon Mercado will be held this coming 2016 but she did not give further details regarding the date and venue of the their wedding.
Denise Laurel also noted during the interview that his fiance, Solomon Mercado is purely single and without any obligations and they are not living with each other. Denise added also that Solomon Mercado and his two-year-old son Alejandro is close with each other.
The father of Denise Laurel's son is an Italian-American while Solomon Mercado is a Filipino-Puerto-Rican but born and raised in Sacramento, California, U.S.A.