Expect San Mig Coffee and Petron to have no easy time when they try to close out their respective quarterfinal (–foul word(s) removed–)ignments as Barako Bull and Talk n' Txt will look to live and fight another day in the PLDT MyDSL Philippine Cup today at the Mall of Asia Arena.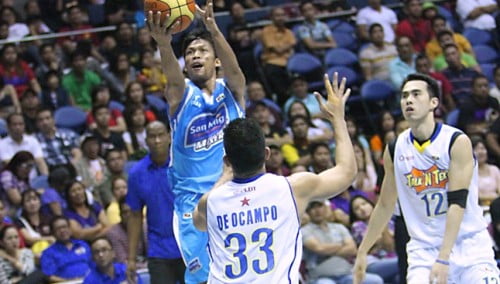 Photo credit: solarsportsdesk.ph
A victory by the Boosters will earn them a semifinals date with Rain of Shine, who earlier had barged in the next round by dispatching Global Port on Wednesday.
The mixers' win on the other hand, will also give them a seat in the semis and will dethrone three-time Philippine Cup champion TNT.
But the San Mig, who is on a five-game winning streak, should still be wary in game two as the Texters would definitely not give up just right.
Experienced with this do-or-die situation, the TNT surely got back in the drawing board and will come out with key adjustments to try and keep their title-retention bid alive.
The Texters, who were waylaid by the Mixers last time with 83-90 loss, will continue to lean on veteran guards Jayson Castro, Jimmy Alapag and sweet-shooting Ranidel De Ocampo in giving San Mig a run for its money.
However, PJ Simon and Mark Barroca might hurt texters' cause as Simon, who had 20 points last time has been splendid offensively while Barroca is contributing all-around numbers for the Mixers. Had they contained these two guards in their 5:30 pm encounter later, chances would be big for the Texters.
Meanwhile, Petron Blaze will look to finish off Barako later at 8 pm.
The energy, who squandered a double-digit lead to booster's blistering payoff period in game one, should put extra effort in stopping boosters' gunners to force a rubber match on Sunday.
The Boosters on the other hand cannot be complacent in closing out this one as Barako had proven in game one that they can outwork them. In fact, without their big fourth quarter surge, fate could be contrasting for both squads.
''Barako Bull showed up the last game and we expect that again, and even more, in Game 2. We'll need a better start and a good finish again to repeat against them,'' said Petron head coach Gee Abanilla. (Statement from manilastandardtoday.com)