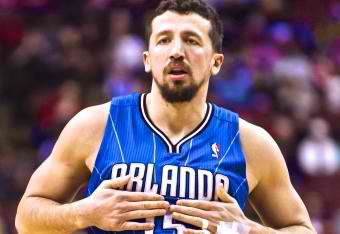 Los Angeles Clippers have bolstered their already formidable frontline as they signed free agent forward Hedo Turkoglu on Thursday (Friday in the Philippines).
The 6'10 Turkish player agreed to a deal with undisclosed details but believed to be a rest of the season contract.
"It feels great," Turkoglu said in a statement to the clippers official website.
"I'm really excited, a little bit nervous. It's a new chapter for me." He added.
Turkoglu, who is expected to suit up for the team's Friday road game against the Knicks, impressed the Los Angeles coaching staff on team's free agent workout last week.
"I just like him as a player," Clippers head coach Doc Rivers said. He can play 3 and 4. It's a position that we can use in some ways, so we're looking."
The 2008 most improved player Turkoglu only played 11 games last season before being waived by Orlando earlier this month.
The fourteen-year veteran also seen played for Sacramento Kings, San Antonio Spurs and Phoenix Suns in past.
Aside from the signing of Turkoglu, the Los Angeles also shored up its Paul-less back-court by giving point-guard Darius Morris another 10-day contract.