Bantayan Island is one of the worst-hit islands in the Philippines caused by the devastation by Super Typhoon Yolanda which landed in the northern part of Cebu at around 10:30 AM on Saturday, Nov. 8, 2013. The strongest typhoon to hit the county "cut-off" all power and communication lines in the three-municipalities comprising Bantayan Island.
Bantayan Tourist Spot OMAGIECA Needs Your Help
The damage from the powerful typhoon is not yet unknown because of the island's isolation, but based upon the preliminary reports from various local media, about 30 percent of the island's resident lost their homes.
Related Article: Bantayan Back to Sea Project Launched Through Bayanihan
According to the Mayor of the Municipality of Bantayan, Mayor Chris Escario who managed to sneak in a call from Sta. Fe wharf, Bantayan looks like a war zone, he said. 90% of the houses that are still standing have no more roof. The island is currently in need of water to drink and generator sets to get their pumps running.
Related Article: Brgy. Sillon Lot Owner Donates Almost A Hectare of Land for Yolanda Relocation
Twitter Photo by Ines Escario
Facebook user Richard Go Batiguin, who is currently in the island of Bantayan, said via Facebook that Bantayan and Sta. Fe town "are badly hit and destroyed by Yolanda's gruesome force." he said. Batiguin added further that "Santa Fe is unrecognizable after the damage." he posted on Facebook.
Related Article: Bantayan Island Updates on Typhoon Yolanda (ABS-CBN Video)
Gov. Hilario "Jun" Davide is planning to visit the island today to (–foul word(s) removed–)s damage.
Here are some photos from Bantayan Island: (Photo Credits: Richard Go Batiguin & Sarah Lynn)
Related Article: Bantayan Island Relief Operations
Municipality of Bantayan:
Related Article: Damage Reports of Bantayan Island per Barangays
Bantayan Photos by MotoGears Cebu FB
Barangay Obo-ob, Bantayan, Cebu Photos: (Credit Mimi Ylores)
Municipality of Sta. Fe Photos: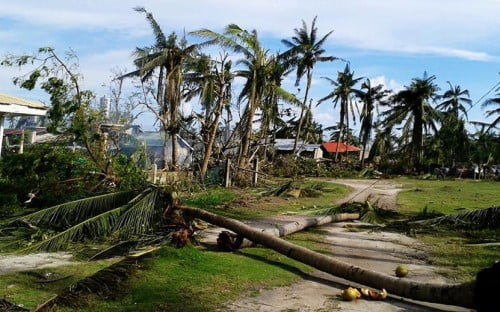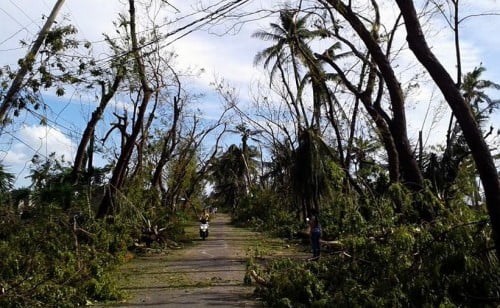 Municipality of Madridejos:
For more photos of Bantayan Island Follow the Facebook Pages of the following fellow Bantayanons:
Bangon Bantayanon Facebook Page
comment(s) for this post "Bantayan Island Suffered Heavy Damages Due to Super Typhoon Yolanda (Photos)". Tell us what you think abut this post by leaving your comments below.