The brilliant Senator Mirriam Defensor-Santiago urged the Commission on Audit (COA) on Monday, September 30, to investigate the Aquino Administration's fund releases especially after the Senate ousted the former Chief Justice Renato Corona on May 2012.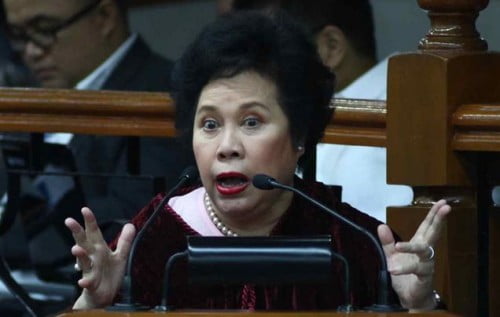 The 68-year-old Senator from Iloilo admitted that she was "heartbroken" over the release of at least P50 million worth of pork barrel to each Senator who voted to convict Chief Justice Corona.
Sen. Santiago was quoted as saying: "This is so far from daang matuwid! Please, President Aquino and (Budget) Secretary (Butch) Abad, tell me it's not true," the Senator stated. She adds further that, "When Greek mythology discovered the stinking Augean stables, it never anticipated the fetid and putrid pork barrel stables of corrupt Philippine politics." Sen. Santiago said.
The controversial P50 million pork barrel additional fund was revealed by Senator Jinggoy Estrada during a privilege speech last week. Senate President Franklin Drilon also confirmed the issue, but he clarified that the amount was part of the Priority Development (–foul word(s) removed–)istance Fund (PDAF) that was withheld during the impeachment trial of Corona.
According to Senate Pres. Drilon, the P50 million is not a bribe, but Sen. Estrada claimed that it was an incentive for the Senators who voted to convict Corona, the senators voted 20-3 to convict Corona. Only Senators Santiago, Ferdinand Marcos Jr. and Joker Arroyo voted against the conviction of former Chief Justice Corona.
Meanwhile Budget Secretary Florencio Abad confirmed that 20 senators received a total of P1.107 billion in additional pork barrel on a few months after Corona's conviction. The said funds came from the so-called Disbursement Acceleration Program (DAP) introduced in 2011 to "ramp up spending and help accelerate economic expansion."
According to the records by the DBM, Senator Drilon, then the chair of finance committee, got P100 million; Sen. Francis Escudero, P99 million and then Senate Pres. Juan Ponce Enrile received P92 million.
comment(s) for this post "Sen. Mirriam Defensor-Santiago Questions "Aquino Administration's Right Path"". Tell us what you think abut this post by leaving your comments below.