According to our insiders from the PRC, the agency will release the results of p(–foul word(s) removed–)ers and topnotchers of the June 2013 Nursing Licensure Examination today, July 8, 2013.
Here's the list of Topnotchers in the 2013 Nursing Board Exam Results:
1. BEVERLY ANNE FELICIO BALAGON – 87.00
2. JAMILA JANE UY BORLAGDAN – 86.80
MYLENE GRACE DACULA GONZAGA
3. MA STEFANIE PALENCIA REYES – 86.20
LACE PAULYN TAN ROSAROSO
AINA FE ROLDAN SALEM
4. SHERA LEE BRACERO AQUINO – 86.00
KATHLEEN UY FLORES
5. IVY JEAN COMBISTA BAYA – 85.80
ERIN CAMILLE AGUILAR CARITATIVO
ARIANNE BONOS LABAYO
JAMES THOMAS SANTA CRUZ SALMON
JOANNA MAE CHRISTINE PAJO SILAO
JERRICA MAE BALITON TAN
6. DENA MAE AMOR NAINGUE DESABILLE – 85.60
JONALYN PINEDA DIANZON
ROMELYN TAGALOG ICOT
DINALYN CALIMAG RICO
MARIAN ROSE SUELLO SALAZAR
NATALYA FRANCES ESCUDERO SOUSA
7. CARL CHRISTIAN TANDOC AGUNOD – 85.40
MICHELLE CUALES BILLANTE
NICOLE ABAD DOMINGO
SHIELA MAE SUMILE ENOPIA
NIKKI NATHASIA CAMINONG
BERMON WREN REYES PUNZALAN
EPHRAIM JOHN FABRIG SEPNIO
8. SHERRY MAE MANZANARES AMPIL – 85.20
ALYSSA JIMENEZ DIAZ
CALVIN REI LONTOC MACROHON
DAN NATHANIEL MABALLO ORDOÑO
LUNUEL SURRIANE MANGARING SAMONTE
RICHELLE JANE CANDO SANTOS
REJENNE GULFAN SOTES
GWEN EUNICE RUBIO
9.DIANNE KARLA LOPEZ AVILA – VIRAC 85.00
JEMIAH LYN CASTAÑEDA BRAGADO
PAULINA ERIKA RAMIREZ IRMSCHER
PAULA JEAN VIBAR MASANGCAY UNIVERSITY OF SANTO TOMAS
GUADA FE MARIE JORE MERCADO
KATRINA SARAH MAE PULGAR PAULINO
JOANNA LISSA FANG PAYURAN
KRISTIN MASARATE PEÑA
ARNICA MAE APOLINARIO REMOQUILLO
MARIANN STEPHANIE BRILLANTES ROSALES
KATHRINA ANGELICA RAGUINDIN TAASIN
ABEGAIL CLAVO VILLALUNA
10. CAMELIA DAYUPAY ACHONDO – 84.80
CARMELINE RESMEROS ASENCION
CARMELLE PHOEBE LAGURA BAGUIO
APRIL FAYE PAMILLARAN BARBADILLO
PHILIPP ENRICO NOSCAL BARRAMEDA
PATRICK JOSEPH MAURICIO BASELERES
MARK ANTHONY MUÑOZ CACCAM
DIANNE JOY PACADA DE GUZMAN
JENNELYN CANLAS GUANCO
SHIELA ALEONAR HERUELA
KYZIA ANN DE GUZMAN KINTANAR
APRIL JUNG BUN BULANHAGUI LEE
JOY VELASCO MEDINA
CHELSEA MAE NIDO NOBLEZA
ERNEST MATTHEW PROVIDO PAGGABAO
MARK BILLY LACOSTALES PERPETUA
GEMICAH NICOLE FULAY ROJAS
GINO GUERRERO ROSALES
EYART JAZ VILLARIN SORIANO
DOMINGO OLASO VELITARIO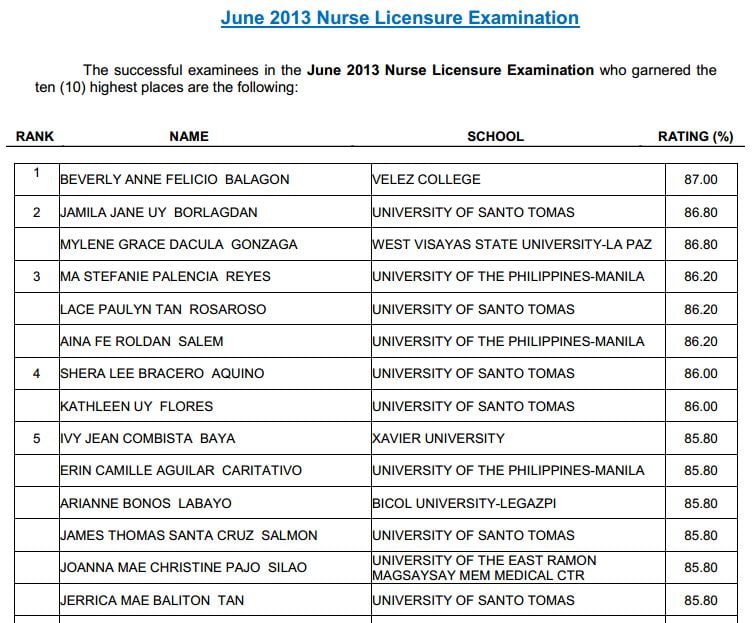 comment(s) for this post "NLE Results June 2013 Nursing Board Exam Topnotchers". Tell us what you think abut this post by leaving your comments below.