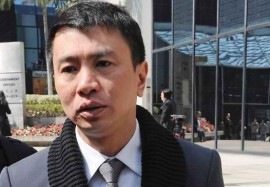 House Speaker Feliciano "Sonny" Belmonte Jr. urged Congressman Ronald Singson to resign from office as Ilocos Sur Representative, Monday.
Ilocos Sur Governor Luis "Chavit" Singson confronted Belmonte in his house Sunday to inform the Congressman's intent of resigning from office.
"It is expected to hand carry the letter of resignation from Representative Singson within this week," said Gov. Chavit Singson.
"The office of the Representative in Ilocos Sur will stop to exist and the salary of Representative Singson will be frozen started March 1, 2011", said Belmonte.
Ilocos Sur Priority Development (–foul word(s) removed–)istance Fund amounting to P70-million under Representative Ronald Singson may be intact until now, Belmonte said.
Belmonte said, he will direct to the House Committee on Suffrage to hand in the resolution asking the COMELEC (Commission on Election) to plan a special election to replace in the office of Ronald Singson.
With the initiative of Governor Chavit Singson he set up the meeting with Belmonte Sunday night prior to Belmonte's other appointment to talk about the resignation of Representative Ronald Singson.
Governor Singson told Belmonte that he will send somebody to Hong Kong to get the letter of resignation from Congressman Ronald Singson.
The Speaker said, he will ask the committee on ethics to delay the hearing on the ethics case versus Represntative Ronald Singson by a week.
On Tuesday the committee on ethics sets on meeting on the ethics cases against Representative Ronald Singson, Representative Eulogio Magsaysay and Representative Walden Bello.
Once Belmonte receive the letter of Singson, he will report immediately to plenary and instruct the secretary general to drop Ronald Singson from the House rolls, said Belmonte.