Check Out The Top 5 Rugged Smartphones Of The Year 2023
RUGGED SMARTPHONES – Take a look at the top five (5) rugged smartphones of the year 2023.
The best rugged smartphones have the ability to endure shocks, falls, and harsh weather conditions, while also incorporating modern processors, substantial batteries, and other desired features. Most of today's leading smartphones sport glass backs to complement their glass displays, but glass renders a phone vulnerable to damage upon impact. While phone manufacturers and wireless carriers readily offer insurance against breakage or sturdy cases, there might be a superior alternative for you: opting for a rugged phone.
Rugged phones are engineered to confront the elements, boasting impressive IP ratings for resistance against dust and water, as well as undergoing rigorous military-standard tests for durability. This enhances the likelihood of the screen surviving a fall. Many of these phones feature additional battery capacity or the ability to swap batteries, allowing you to continue your tasks and entertainment without constantly needing to charge while on the move.
The Best Rugged Smartphones of 2023
Specifications of Samsung Galaxy XCover6 Pro: Screen: 6.6 inches (2,408 x 1,080 pixels) | Processor: Qualcomm Snapdragon 778G | RAM: 6GB | Internal Storage: 128GB with microSD | Rear cameras: 50MP f/1.8 wide-angle and 8MP ultra-wide cameras | Front camera: 13MP f/2.2 | Battery: 4050mAh | Weight: 240g
The Samsung Galaxy XCover6 Pro maintains a similarly sleek design as its predecessor, the XCover Pro, while enhancing it with a new processor, increased RAM, and improved cameras. Particularly beneficial for businesses, it introduces Samsung DeX support, enabling you to capture information in the field and seamlessly transition to using the same phone for your desktop tasks.
Rugged attributes encompass MIL-STD 810G 1.5m drop test certification, an IP68 rating for dust and water resistance, a generously sized 4,050mAh removable battery, and Pogo Pin compatibility for accessories.
Kyocera DuraForce Pro 3
Introducing the Kyocera DuraForce Pro 3, a rugged smartphone tailored for demanding field tasks. Equipped with Verizon's 5G network, this device combines robust functionality with connectivity. Despite its sleek appearance, it stands strong against the challenges of outdoor work, boasting a more streamlined form compared to its bulkier counterparts.
Specifications of the Kyocera DuraForce Pro 3 include: Screen: 5.38 inches (2,160 x 1,080 pixels, OLED), Processor: Qualcomm Snapdragon 7 Gen 1, Memory: 6GB RAM, Storage: 128GB internal with expandable microSD slot, Back Cameras: 64MP wide, 16MP ultra-wide, and 2MP macro, Selfie Camera: 8MP, Battery: 4270 mAh, Weight: 237g.
Enhancing usability, three user-configurable buttons enable swift access to favored apps or essential functions with a simple press, convenient for quick actions without touchscreen interaction. The phone is also glove-friendly and supports operation while wearing gloves.
Built to withstand adversity, the phone boasts an IP68 dust/water resistance rating, MIL-STD 810H shock test certification, and action overlay data to elevate your outdoor exploits. With the Kyocera DuraForce Pro 3, demanding fieldwork finds a reliable and robust companion.
Specifications of the Unihertz Tank are as follows: Screen: 6.81 inches (2400 x 1080 pixels), Processor: MediaTek MT6789, Memory: 12GB RAM, Storage: 256GB internal with microSD support, Main Cameras: 108MP primary, 20MP night vision, and 2MP macro, Front Camera: 32MP, Battery: 22,000 mAh, Weight: 560g.
The Unihertz Tank stands out as a powerhouse device, housing a massive 22,000 mAh battery capable of serving as a power source for your other gadgets. The rear of the phone features a prominent 1200-lumen flashlight equipped with five operational modes.
At the back, you'll find a trio of cameras: an advanced 108MP AI camera, a 20MP night vision camera, and a 2MP macro camera. For outdoor self-portraits, a 32MP front-facing camera is in place. Powering the phone is a MediaTek MT6789 processor, accompanied by a generous 12GB of RAM and 256GB of internal storage. The expansive 6.81-inch display offers ample space for conveniently viewing maps and data while on the move.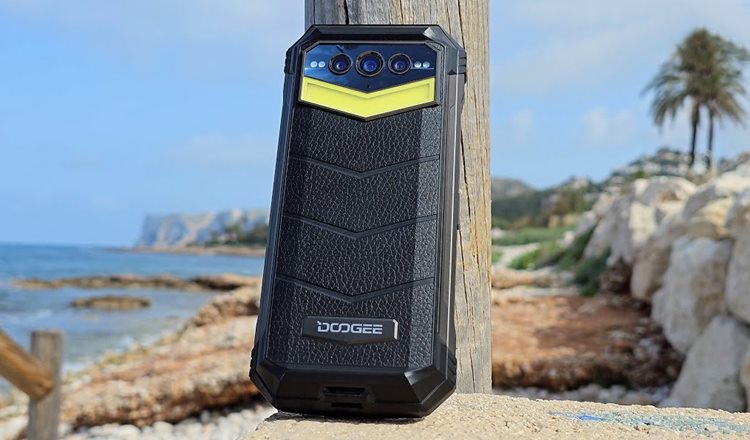 Here are the specifications for the Doogee S100 Pro: Screen: 6.58 inches (2400 x 1080 pixels), Processor: MediaTek Helio G99, Memory: 20GB RAM (12GB primary + 8GB extended), Storage: 256GB internal with microSD support, Back Cameras: 108MP main, 20MP night vision, and 16MP ultra-wide, Front Camera: 32MP, Battery: 22,000 mAh, Weight: 400g.
If you are looking for a survivalist phone boasting an extended battery life that can endure for days without recharging, the Doogee S100 Pro is the ideal choice. It showcases an enormous 22,000 mAh internal battery, a capacity that indeed amounts to twenty-two thousand.
Within its specifications, there's a substantial 12GB of internal RAM, which can be further extended by up to 8GB, allowing for seamless multitasking across numerous applications. The internal storage of 256GB, coupled with the option of expanding via a microSD card slot supporting cards of up to 2TB, guarantees you'll never face storage constraints.
The phone also incorporates a trio of robust rear cameras, enabling you to capture your adventures in detail, and the night vision camera proves invaluable for detecting potential threats even in low-light situations. For added utility, a 130-lumen camping light is on hand to illuminate your surroundings during the night.
Complementing these features is the sizeable display, which supports a fluid mobile experience with a refresh rate of up to 120Hz, enhancing your overall interaction with the device.
Here are the specifications for the Cat S62 Pro: Screen: 5.7 inches (2,160 x 1,080 pixels), Processor: Qualcomm Snapdragon 660, Memory: 6GB RAM, Storage: 128GB internal with microSD support, Back Cameras: 12MP f/1.8 combined with Lepton 3.5 FLIR camera, Front Camera: 8MP, Battery: 4000 mAh, Weight: 248g.
The inclusion of thermal camera support is a notable feature present in certain Cat phones. The thermal camera proves to be an invaluable tool for practical tasks, whether it involves identifying overheating points within an electrical switchboard or locating them in urgent situations.
Enhancing its functionality, the Cat S62 Pro boasts a 5.7-inch screen with a glove mode, resilience against dust and water with an IP68 rating, and the capability to withstand drops from heights of up to 1.8 meters according to MIL-STD 810H standards. Furthermore, this model is powered by a Qualcomm Snapdragon 660 processor and runs on Android 10.
Despite these impressive attributes, the standout feature is undoubtedly the FLIR Lepton 3.5 thermal camera. This exceptional camera can accurately measure temperatures ranging from -20 degrees Celsius to 400 degrees Celsius.
Please like and follow/subscribe:
Philnews YouTube Channel
Philnews.ph FB Page
Viral Facts