Electric Company in Surigao Drew Flak Online for Hiring Lineman with P350/Day Salary
The online community lambasted an electric company in Surigao del Norte for hiring a lineman with P350/day salary.
Lineman is a dangerous job because it involves electricity, which can kill if it has high voltage power. A lineman is in charge of installing, repairing, and maintaining overhead and subsurface electrical power lines as well as ancillary equipment.
Linemen frequently climb poles to repair overhead lines and assess electrical lines for repair or replacement. Linemen are typically employed by utility corporations, energy firms, or telecommunications companies.
Because of the danger they face, this job should pay well. According to Salary Expert's survey, the average electrical lineman's gross salary in the Philippines is P349,741, or an equal hourly rate of P168.
Meanwhile, a job posting on Facebook garnered criticism for an unreasonable compensation rate for a lineman. Surigao del Norte Electric Cooperative Inc's Facebook page states that they are in desperate need of linemen.
According to the job description, the position is contract-based and will be assigned to Sub Area Office 2 in Del Rosario, Tubod, Surigao del Norte. What enrages netizens about job advertisements is the pay for the position.
According to the job posting, the salary for the position is P350 per day, which includes the "Prescribed Emergency Cost of Living Allowance" (ECOLA). Netizens were also outraged since they required a "graduate of at least four-year study linked to electrical.
Here are the comments of the disappointed netizens to the said post: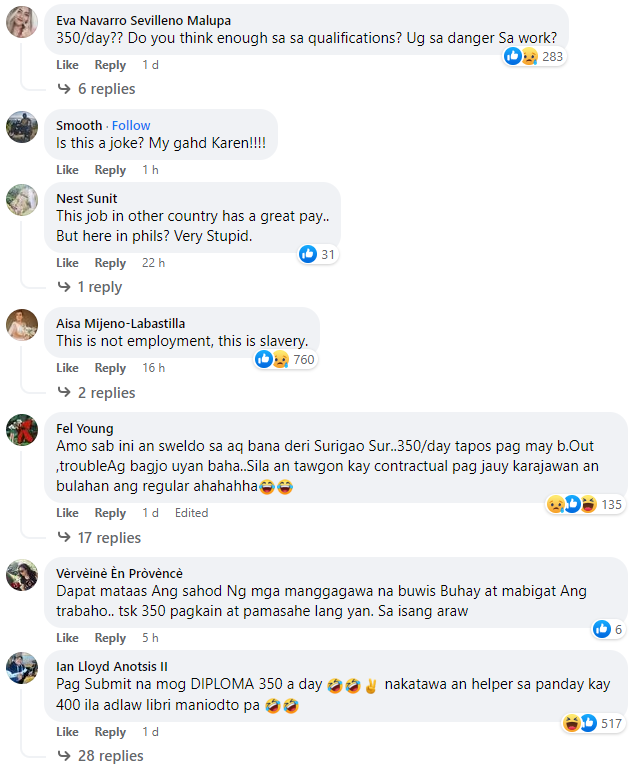 READ ALSO: Student Spots Woman Wearing Yellow Shirt & Green Hair "Nakita kita sa isang magazine"
What are your thoughts on this article? Just feel free to leave your reactions in the comment section.
Thank you for taking the time to read this. We aim to give the freshest and in-demand content to our visitors. Come back next time at PhilNews for more updated news.