Online Shopping Has Never Been More Enjoying than w/ Picodi Cashback
A lot of people now are into online shopping when it comes to both the things they need and want and there is actually a way to earn even while spending – through Picodi Cashback.
Are you one of the individuals who have Shopee and Lazada apps on their mobile phones and usually place stuff on your online carts for orders? Or do you usually book food deliveries through FoodPanda? There are some things that you need to know – the offers of Picodi.
Many individuals spend a lot of money on their online purchases and coupons could really be a big help to ease the bill down. However, what many online shoppers have yet to find out is that coupons are not the only way to save money from online shopping. You can also have a part of what you spent back and that is what the new service, Picodi Cashback, is offering.
Picodi is initially a coupon code provider but it has expanded its offers to online shoppers. It recently launched its cashback offer or money refund while shopping online. You can enjoy both cashback and promo codes thus you can really make profits twice while enjoying online shopping.
What are the benefits of Picodi Cashback?
Enjoy up to 15% cashback on your first purchase with Picodi.
Get from 3% to 10% money back on your succeeding purchases without limits.
You have the chance to earn extra cashback for referrals. Every referral gives both the inviter and the invitee P100 if the invitee makes a purchase with Picodi. Currently, the inviter who set the record has invited more than 200 people paving the way for the person to earn P20,000 through referrals alone.
Lazada, Shopee, and FoodPanda are the giants and they are all among the stores you can shop with Picodi. You can also go online shopping at Zalora, iHerb, and at least 40 shops in total with it.
Aside from having their own website which can redirect you to the store where you want to make your purchases, Picodi app is also available for iOS and Android as well as a Chrome extension. You can really monitor the availability of your cashback and automatically add promo codes at the checkout when they are available.
Why does Picodi pay its users?
You might be wondering why Picodi spends money on its users. For every user brought to the shop, it earns commission and that is what it shares with its users. This is no other than a win-win-win situation here for everyone.
How to get your cashback?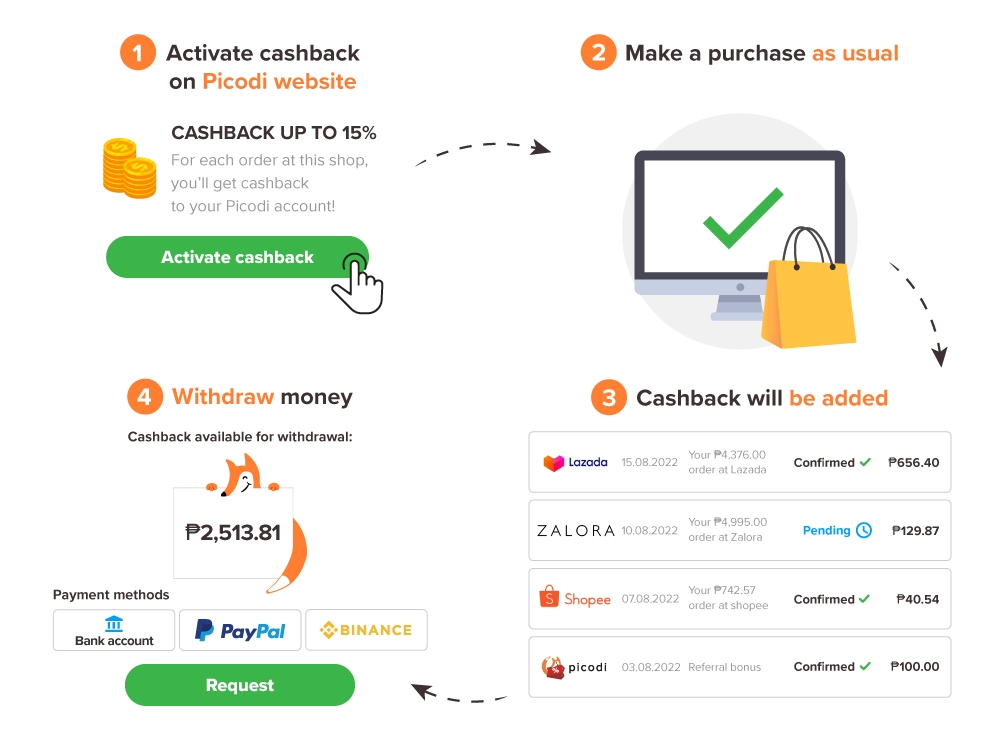 After reaching at least P250 on cashback, you can have your money easily sent to your bank account, PayPal, or Binance account.
Do you want to start earning while shopping and doing referrals? You can begin creating your own Picodi account now.
Enjoy online shopping!