Concerned Netizen Warns the Public Against Alleged Satanic Rosary, Symbols
A concerned netizen shared a video showing the symbols of an allegedly 'satanic rosary' on social media.
A netizen's video about the purportedly satanic rosary she allegedly found went popular on social media and received a lot of feedback. A woman presented the rosary's various symbols on the basic video to demonstrate how it is satanic.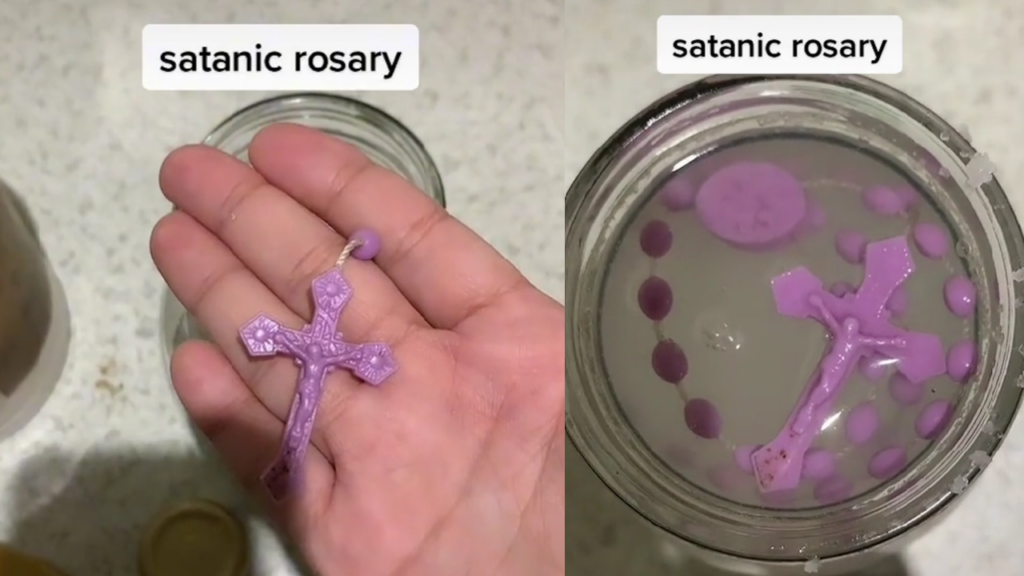 Instead of INRI, the letters on the rosary's cross are purported to be a serpent in the so-called rosary of the evil entity. The video also depicts a horn and a sun in each corner of the cross.
According to legend, the demonic rosary was purposefully made luminous in order to blend in with other rosaries. The mentioned rosary is claimed to be cursed by the devil, according to the Catholic Church.
Empeds Casul, meantime, published a video of himself demonstrating that a satanic rosary indeed exists. He demonstrated the horrible possessions they had, which is why he frequently wakes up from nightmares.
Millions of people have already seen his post. Casul cautioned his fellow online users to exercise caution and examine their homes for their rosaries. Give it to the priest right away, the woman in the first video instructed.
Here is Casul's as is Facebook post.
 "PLEASE BEWARE OF SATANIC ROSARIES! CHECK YOUR ROSARIES AT HOME‼ They are real! Nalaman ko nalang ito nung nag scroll ako sa TikTok and as soon as I realized, I immediately checked it out from my closet itong rosary na ibinigay sa amin but we hadn't used in how many years after receiving it. They take on the form of a regular rosary, and if you're not aware, you would really think that it is just a regular rosary and even pray on it. They are said to be cursed. You can search about this!"
READ ALSO: Young Girl Brings Her Pet Cat & Kittens While Assisting Mom at Dialysis Center
What are your thoughts on this article? Just feel free to leave your reactions in the comment section.
Thank you for taking the time to read this. We aim to give the freshest and in-demand content to our visitors. Come back next time at PhilNews for more updated news.