Here's why Pancit get her Recognition as Best Noodle Dish in the World
PANCIT- The famous Filipino food is now receiving it's recognition internationally named as the best noodle dishes in the world.
Bibingka, sisig, adobo, sinigang, and kare-kare. Thanks to the culinary website TasteAtlas, these Filipino dishes have already had their name in the limelight; now it's the Filipino pancit's turn.
The culinary portal featured pancit, pancit canton, pancit bihon guisado, pancit palabok, and pancit lomi on its list of top noodle dishes worldwide. Based on the report of ANC, the portal is committed to promoting regional ingredients, traditional recipes, and authentic eateries in the world.
As of this writing, (stir-fried noodles with meat and vegetables such chicken, pig, shrimp, celery, carrots, onions, garlic, and cabbage) was rated 4.3 out of 5 stars, placing it at number 11 on the list of "most popular" and "best-rated" noodle dishes. Canton finished in the top 33, followed by Bihon at 35, Palabok at 37, and Lomi at 51.
The report mentioned that, the inclusion of our regional pancit dishes on the list, according to Chef Jam Melchor, founder of the Philippine Culinary Heritage Movement, is a sign that the Filipino food culture is truly making its mark on the world food map, according to an interview with SRO.
The chef, who is presently in Turin supporting Philippine efforts in the slow food movement, claims that due of its abundance of ingredients, this recipeis regarded as a special all-occasion dish among Filipinos. Melchor says, "Madaming mabubusog kapag pancit [ang handa]." He emphasizes that this food is a "universal cuisine" during birthday parties for Filipino families with members living in the US and other countries. The all-time favorite food combination is pancit with lumpiang shanghai.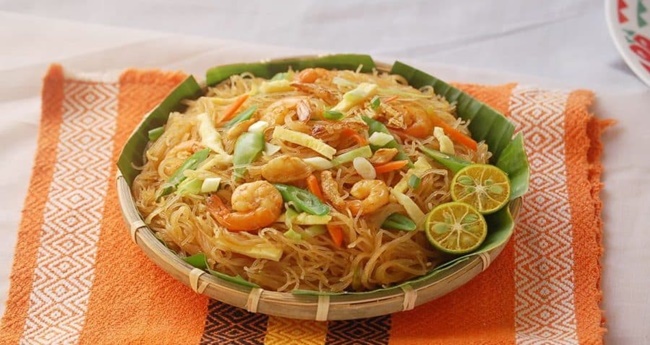 The pancit's ingredients are mostly determined by what is readily available in a certain area or locale. He explains, "Halimbawa sa Cavite, may pancit pusit, because there are many pusits in the area." Pancit Malabon, made with a variety of shellfish including mussels, squid, and shrimp, is popular in Malabon, which has its own fish port.
Melchor believes that the pancit luglog, one of the several varieties of pancit made by Filipinos, has the greatest potential for international acclaim. mostly because its ingredients, including shrimp, chicharon, garlic, vermicelli, and even the atchuete, are widely available in supermarkets and Asian markets around the world.
When asked which noodle is the greatest for him, Melchor replies that he has recently grown to love pancit puti, which is served at a little eatery named LSS Fastfood Pancit Puti on Dela Rosa Street in Makati. It is prepared similarly to pancit guisado, but without soy sauce. The pork broth and the garlic are primarily responsible for the dish's flavor and aroma.
Each region in the Philippines has its own pancit dish, which Filipinos can be proud of, according to Melchor, who also serves as the country director of the Slow Food Youth Network Philippines. He therefore exhorts everyone to promote all varieties.
"Hindi lang yung nasa listahan [ng TasteAtlas]. Kung may alam pa kayong regional dishes, ilabas natin lahat. We have to be proud of our food culture," he says.
You may also visit: PALABOK | About The Noodles With Orange Sauce