HOROSCOPE TODAY: Here is the Astrological Prediction for September 21, 2022 (Wednesday)
HOROSCOPE TODAY – Here is the astrological prediction for each zodiac sign for September 21, 2022 (Wednesday). Check your daily horoscope here.
Horoscope is an astrological chart or diagram that represents the positions of the Sun, Moon, planets, astrological aspects, and sensitive angles at the time of an event. Experts also make predictions from that astrological information.
Every zodiac signs have its own traits and characteristic, which define the personality of an individual. It might be helpful to a person to read horoscope predictions at the start of the day.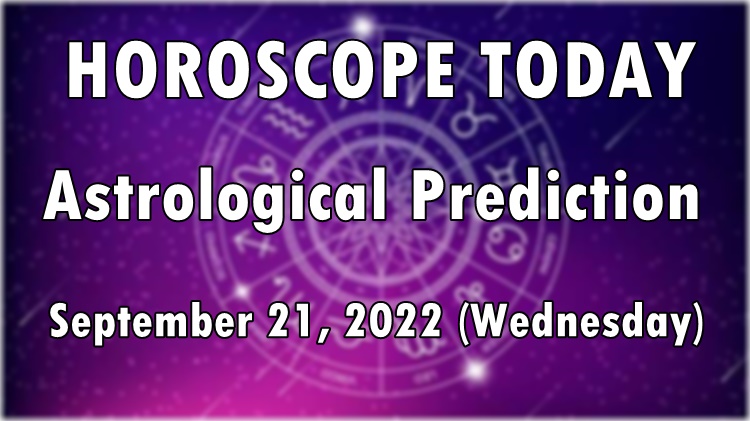 Find out the predictions here:
ARIES (Mar 21-Apr 20)
Lucky Number – 7
Lucky Color – Maroon
Love Focus – Taking some time off to go on a romantic getaway with your sweetheart is planned
Money – Money given for safekeeping will be handled carefully
TAURUS (Apr 21-May 20)
Lucky Number – 15
Lucky Color – Turquoise
Love Focus – Those who are romantically involved might anticipate a passionate day
Money – Work connected to marketing and branding will be profitable
GEMINI (May 21-Jun 21)
Lucky Number – 8
Lucky Color – Dark Red
Love Focus – In a relationship, it is best to stay inside your boundaries
Money – Keep your expensive belongings in a safe place
CANCER (Jun 22-Jul 22)
Lucky Number – 2
Lucky Color – Peach
Love Focus – A much-anticipated romantic evening will be successful
Money – Cash can be saved by finding a good deal
LEO (Jul 23-Aug 23)
Lucky Number – 15
Lucky Color – Turquoise
Love Focus – Your relationship is about to get exciting
Money – Your budget might be reduced due to unnecessary expenses
VIRGO (Aug 24-Sep 23)
Lucky Number – 22
Lucky Color – Orange
Love Focus – You discover a loving and supporting partner
Money – You can select a fulfilling job, but don't sacrifice your financial security
LIBRA (Sept 24-Oct 23)
Lucky Number – 3
Lucky Color – Yellow
Love Focus – You and your life partner might have some intellectual discussions
Money – You should not be unrealistically generous in the business
SCORPIO (Oct 24-Nov 22)
Lucky Number – 17
Lucky Color – Electric Grey
Love Focus – Boost your partner's spirits if you wish to spend a romantic evening together
Money – A financial investment made today will pay off in the future. You make the correct moves in securing a profitable deal
SAGITTARIUS (Nov 23-Dec 21)
Lucky Number – 4
Lucky Color – Violet
Love Focus – Love and concern of your well-wishers will be most touching
Money – Your well-wishers' love and concern will be quite moving
CAPRICORN (Dec 22-Jan 21)
Lucky Number – 22
Lucky Color – Dark Blue
Love Focus – It will be possible for lovers to connect and spend time together
Money – A family child will play a key role in growing the business
AQUARIUS (Jan 22-Feb 19)
Lucky Number – 15
Lucky Color – Turquoise
Love Focus – You will definitely meet your soul mate today since love is in the air
Money – You might work together with someone to start a new business
PISCES (Feb 20-Mar 20)
Lucky Number – 18
Lucky Color – Saffron
Love Focus – Today, sweetheart remains in romantic mood
Money – You will spend money on comfort and luxury material
What can you say about this daily horoscope? Just feel free to leave your comments and reactions to this article.
Thank you for visiting Philippine Trending News (Philnews.ph). You may also follow us on the following social media platforms; Facebook, Twitter, and YouTube.