Here is the Fire Officer Exam Result April 2022 – FOE Results for All Regions
Updated (6/10/22) – FOE RESULTS 2022 – The Civil Service Commission is set to release the Fire Officer Exam FOE Result April 2022 for all regions.
The April 2022 Fire Officer Exam Result including the list of passers will be available on this website after it will be officially released by CSC.
The eligibility exams for aspiring fire officers have been conducted at testing centers in Metro Manila, CAR, CARAGA, BARMM, and all regional testing centers in the Philippines last April 24, 2022.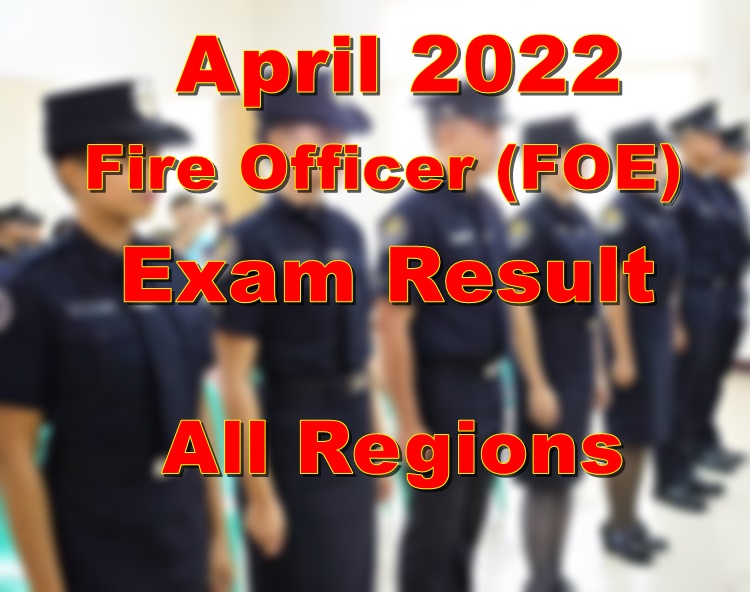 A total of 9,411 individuals took the examinations.
SUMMARY OF RESULTS
Here is the List of Passers
Exam Coverage
General Ability (25%): Verbal, Analytical and Numerical
Fire Suppression (30%): Pre-Fire Planning; Firefighting Techniques and Procedures; Tools, Equipment and Apparatus
Fire Safety and Prevention (20%): Fire Code of the Philippines; Fire Safety Related Codes, NFPA Laws and other BFP Issuances (Building Code, Electrical Code); BFP Citizens Charter, SOP/MCs on Fire Safety Inspection
Fire Investigation (15%): The Law on Arson in the Philippines (RPC); Procedures and Techniques; SOP's in Fire and Arson Investigation
Administrative Matters (10%): RA 6975, 9263 & 9592 and its IRR; CSC Rules and Regulations and Qualification Standards; BFP Memo Circulars and SOP's on Administrative Matters
Release Date
The exam results are expected to be released within sixty (60) days after the last day of examinations or from June 1-4, 2022.
Note
However, the examinees should expect that the exam results might be released earlier or later than the expected date without prior notice.
Exam takers shall acquire at least 80.00% general rating to pass the eligibility examination. Just visit this website regularly or refresh the page for further updates and information.
Thank you for visiting Philippine Newspaper (Newspapers.ph). You may also follow us on the following social media platforms; Facebook page and YouTube channel.