Here is the Medical Technologist MedTech Board Exam Result March 2022 Including the List of Passers (H-Q)
Here is the Medical Technologist MedTech Board Exam Result March 2022 including the list of passers (H-Q) as per released by PRC.
The March 2022 MedTech Exam Results including the list of passers, top 10 passers, top performing and performance of schools will be available on this website after it will be released by PRC.
The Medical Technologist Licensure Examinations have been conducted at PRC testing centers located in Metro Manila, Baguio, Cagayan de Oro, Cebu, Davao, Iloilo, Koronadal, Legaspi, Lucena, Pampanga, Rosales, Tacloban, Tuguegarao and Zamboanga.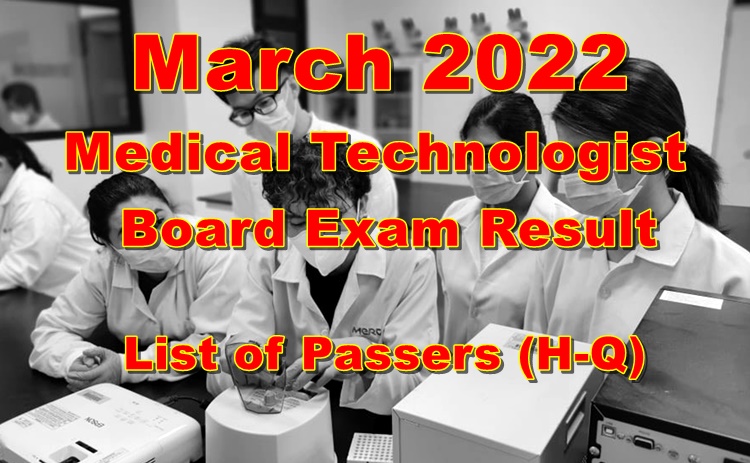 PRC Chairman of the Board of Medical Technology, Dr. Marilyn A. Cabal-Barza and its members Ms. Marilyn R. Atienza and Ms. Marian M. Tantingco administered the board examinations on March 16-17, 2022.
SUMMARY OF RESULTS
Here is the List of Passers (H-Q)
564 HABBILING, JUSTIN JOSEF HIYADAN
565 HACHERO, MARIELLA LAGOS
566 HADJI UMAIR, JEHAN CALI
567 HALOOT, CLARISSE DEL MEDRIANO
568 HAMPUY, EIREEN KAYE BUTTICON
569 HARINA, RACEL AIRA ANTIGO
570 HERNANDEZ, KAREN AMELIE LAPUS
571 HERNANDEZ, KATE CYRINE AGOOT
572 HERRERA, EHRAZEL ANNE LABORTE
573 HESITA, MERIANNE LOUISE BAUTISTA
574 HINAYHINAY, JEZZA MIE LAZAGA
575 HIPOLITO, INGRID MARIE MIÑOSA
576 HUSSIN, SITTI RUFEEZA JULAID
577 ICACHA, PAULA CHANGAT
578 ICO, SHARMAINE BELLEZA
579 IDIO, DARLENE JOYCE SULAÑGI
580 IGNACIO, JESSA MHEL DIAZ
581 IGNACIO, NISTY JANE SIGUA
582 ILAGAN, RYAN CHRISTIAN BALDERAMA
583 IMLANI, ARDEEN VILLARBA
584 INGEL, ALVIN JON VITAL
585 INONCILLO, JONIAH MARIE OPALDA
586 INSO, MIA FRANCES LACAMANG
587 IP, MARC LENNARD GUERRA
588 IRASUSTA, KIENNE CARLA EUSEBIO
589 ISAH, SITTI ASMAH TABOA
590 ISIDORO, SHERYL ROSE CLIMACO
591 IYA, ALYANNA ESPINEDA
592 JACA, CRISHER WENCY WABINGA
593 JALA, FARRAH BETHIA CATIPAY
594 JAMANDRE, JASON CHIUCO
595 JAMERO, SHANINA GRACE AGUIMAN
596 JAMILLA, DOMINICK LOUIS SOFIA DE VERA
597 JAMIRO, HANNA CHARISMA MIRAMONTES
598 JARANILLA, RAY KENNETH FRADEJAS
599 JAVIER, ALYSSA MARIE LAURENA
600 JAVIER, GLENN MICHAEL PUSO
Roll of Successful Examinees in the
MEDICAL TECHNOLOGIST LICENSURE EXAMINATION
Held on MARCH 16 & 17, 2022 Page: 14 of 27
Released on MARCH 23, 2022
Seq. No. N a m e
601 JEERH, SUKHJIT KAUR RASONABLE
602 JIMENEZ, CHRISTINE ELIZABELLE MENDOZA
603 JIMENEZ, REBYN ARIAN DE AUSEN
604 JONSON, ALVIN REBANCOS
605 JOVELLANO, JEANEL ANNE RAMINTO
606 JULLEZA, NICO CODINO
607 JUMAWAN, GHEA LAGROMA
608 JUNNI, FATMA SHEILA ELAM
609 KALIM, JAYCYL MAE ASTAMI
610 KAWATA, KYLA MAE JASARENO
611 KEEN, JACK LORD ALAN PITULAN
612 KIKIGUI, GRACELYN AMUNGAO
613 KIM, HAN-AH RODRIGUEZ
614 KIM, JILLEN PANGAN
615 KIRAM, DAYANG DAYANG SITTI NURZHAINEE WATTI SY
616 KWAN, CARYLL CORTEZ
617 LABASAN, LOUIS ANDREI LUMBO
618 LABIAL, ERICKA ANDRHEA BOGOL
619 LABRADO, JEREMY PAULO LAGUATAN
620 LABRADOR, CATHELYN CABANERO
621 LABRADOR, JHANELL AMPARO
622 LABRAGUE, APPLE
623 LACADEN, GLAYSA HARRISON
624 LACANILAO, ELIAS LEROI ECALNIR
625 LACBAO, IVY SUNGGAY
626 LACHAMA, ANGELO JOSE VILLAMER
627 LACIA, JAN PAULO MIGUEL RIVERA
628 LADION, ALYANNA YVONNE CARITON
629 LAGRAZON, GEFF YRA AQUINO
630 LAGRIMAS, CLAUDETTE ANN OARGA
631 LAO, KARL MAXEL OLARIO
632 LAOLAO, JESTY DAWN LUMBAYAN
633 LARDIZABAL, LYKA JANE LINGBAWAN
634 LATORENA, JESSICA MARIE LINGA
635 LAURENTINO, CHRISTIANE JON-RAY CURUGAN
636 LAURETA, PERRINE BERINGUEL
637 LAVADO, WENDILYN ONIAS
638 LAWAS, ANNA MARIE GURREA
639 LAYAG, LYNAND UDEN
640 LAYSON, RHEA JANE ABIT
641 LAYUGAN, CHARITY TALNAG
642 LAYUGAN, JOAN VILLASI
643 LEYSON, DEANNE CLAIRE HERNANDEZ
644 LIAO, JONATHAN CHIONG
645 LIBNAO, JENALYN GUIMONG
646 LICUDAN, JADE NICOLE ANN CAMPOS
647 LIGAN, JOANNE MARINELLE BANIAGO
648 LIJAUCO, MICHAELA LUISE GONZALES
649 LIKIGAN, BERJIE CLAIRE SAGANDOY
650 LIM, CAITLIN MAE TAN
Roll of Successful Examinees in the
MEDICAL TECHNOLOGIST LICENSURE EXAMINATION
Held on MARCH 16 & 17, 2022 Page: 15 of 27
Released on MARCH 23, 2022
Seq. No. N a m e
651 LIM, CHRISTIAN BERNARD BERCELES
652 LIM, GREGORY MARJAMES GATAPIA
653 LIM, RUPERT LESTER
654 LIPANG, RAECEL MABUTIN
655 LIPAT, KIMBERLY ANNE REÑA
656 LIPAYON, MARIANO III CAÑA
657 LIQUIGAN, BRIANNE ABIGAIL GAMATAN
658 LISTA, ROCHELLE JOY SAGAYAGA
659 LIU, DANIELLE DECINA
660 LLAVORE, PATRICIA BERNICE MARIÑAS
661 LLONES, NICOLE JASMINE OMANDAM
662 LLOREN, NICOLE ANGELIQUE AMORA
663 LODOVICE, ISSA LEIGH YURFO
664 LOPEZ, EDRIAN CARL GARCIA
665 LOPEZ, ELEINE JOYCE CALMA
666 LOPEZ, JAIRA FIGUEROA
667 LOPEZ, LEO DOMINGO
668 LOPEZ, REGILLA SIO
669 LOPEZ, TABITHA JEANE TAGOC
670 LORENZO, DAPHNIE BALTAZAR
671 LOZA, KLAUDINNE MANONGSONG
672 LOZADA, AEROL JACOB MACUGAY
673 LUBO, KARLA ESLAO
674 LUCAS, EDELINA GUHEP
675 LUCENA, GENESIS AARON LEAL
676 LUCES, IAN LLOYD ONG
677 LUDANGCO, FRANCISCA CAGALITAN
678 LUMAYAG, CIELO MAE SUMALINOG
679 LUMINDAS, RUTHCHIE CLAIRE REBATO
680 LUSANTA, JUSTINE LEONES
681 MABBORANG, REYCAR MADULI
682 MABUTAS, CLARIZCEL TAMAYO
683 MACA-AGIR, SITTIE AISAH MACABINTA
684 MACABALI, KHYLA MAE VALENCIA
685 MACABULOS, RICA MAE DELA CRUZ
686 MACALINO, KRISTEL ANNE MANGALINO
687 MACAPUNDAG, JOHAYRA ALIP
688 MACARAEG, JACQUELINE ENRIQUEZ
689 MACARAEG, JAMES NICOLE AGUZAR
690 MACASINAG, DIANNE JOY MUYNA
691 MACOROL, DARLING RONALET
692 MADRID, BENJ KYLE ENTIENZA
693 MADRID, MARIE ALLEN BAUTISTA
694 MAGADAN, DYSEREE GAMAYOT
695 MAGANIS, LENINA PACIENCIA DACANAY
696 MAGDATO, PRINCESS RUTH LUBIANO
697 MAGLANGIT, MARPHA GRACE RENDON
698 MAGTUBO, ANGELIE JOY LUMBAB
699 MAKINANO, LADY LOU ATACADOR
700 MALABAD, JOJO JR UY
Roll of Successful Examinees in the
MEDICAL TECHNOLOGIST LICENSURE EXAMINATION
Held on MARCH 16 & 17, 2022 Page: 16 of 27
Released on MARCH 23, 2022
Seq. No. N a m e
701 MALAGOTNOT, TONI BIANCA BARROGA
702 MALALUAN, CLAUDETTE CONTRERAS
703 MALAPITAN, RHON MICHAEL GACIAS
704 MALIHAN, ARCHIE CANUZA
705 MALIKSI, HAIDIE SARMIENTO
706 MALIWAT, IVY JEAN DELA CRUZ
707 MALLARI, SIR RAPHAEL NAGALES
708 MALLORCA, ZAINA MAE LICON
709 MALONES, DOROTHY ANNE NACISVALENCIA
710 MALONG, DAIZZEREY RAYOS
711 MALONZO, STEPHEN JOSH RIVERA
712 MALUBAY, JOHN DAVE PENEYRA
713 MAMANGON, LOUIS MARISSE NECIA
714 MAMING, FATIMA LIANDRA SY
715 MANALANG, KIMBERLY MAE BIAGTAN
716 MANALO, ERIKA CIELO JAIME
717 MANALO, LESLIE ANN LAPPAY
718 MANAOG, MARILOU PINEDA
719 MANDANAS, DIANE MICHELLE GARCIA
720 MANDAPAT, ROSS KAYE SAMIA
721 MANGADA, JUVIE CARLE TAGUIAM
722 MANGAOANG, RONALAINE-ANN NABORA
723 MANGOMPIA, PRINCESS HANIFAH BACOTE
724 MANGULABNAN, CHARLYN CALMA
725 MANIO, ABEGAIL DAVID
726 MANLANGIT, LYKA MAE ARAOJO
727 MANLAPAZ, JOSELLE BAUTISTA
728 MANLUCOT, LIANNE LOREN ABORDO
729 MANRIQUEZ, ANGELICA NICOLE
730 MANUEL, ALLYSA SHIMEA KAYE ILUIS
731 MANUEL, ARNOLD JEY QUIABANG
732 MANUEL, LYKA MAE MOJADO
733 MANUEL, MARJORIE CANTELA
734 MAPALO, DOLLY FAITH ASIRIT
735 MAPE, FRANCES MARY ZENAIDA RUIZ
736 MAQUIRANG, SIM ORGIE
737 MARAMAG, BEVERLY YUSI
738 MARASIGAN, RICA CZIARRA CALAPATI
739 MARATA, ALYSSA BERNADETTE SALAR
740 MARCELINO, DHAN KENNETH ANTONIO
741 MARCELO, JELINA ANNE CELINE MACAM
742 MARCELO, POULA BEATRIZ ENRIQUEZ
743 MARCIAL, JOIDA DEE
744 MARIANO, CHRISTEL GLYNNA CAYABYAB
745 MARTINEZ, HARIETTE MALLAVO
746 MARTINEZ, JEMIMA GUERRERO
747 MASLANG, SHALOM ANGEL ANDRES
748 MATA, JAN VICTOR NESTOR VILA
749 MATAWA, JAELLAH YBAÑEZ
750 MATTHEWS, VERALYN UY
Roll of Successful Examinees in the
MEDICAL TECHNOLOGIST LICENSURE EXAMINATION
Held on MARCH 16 & 17, 2022 Page: 17 of 27
Released on MARCH 23, 2022
Seq. No. N a m e
751 MAULOD, SHAIRA-AN ASMA FERNANDO
752 MAZA, KRIZZIA FAITH NARANJO
753 MECA, MIA REZA GOMOS
754 MEDEL, MARIA ANGELICA TIANO
755 MEDINA, BRYAN VINCENT MIRAÑA
756 MEDINA, JELYN BANUTAN
757 MEDINA, SUE MARIAH TY
758 MEJIA, JOHN MARK ERVYN DELA CRUZ
759 MEJORADA, ASSUMPTION EMELREE PUBLICO
760 MELICADO, SHYLA VILLAFRANCA
761 MENDENILLA, RUTH JEAN MIRAFUENTES
762 MENDIOLA, AUBREY ALVIAR
763 MENDOZA, ALEXANDRA JOYCE LINDE
764 MENDOZA, ANNA PATRICIA JAVIER
765 MENDOZA, CHARMAINE ANNE ARBIS
766 MENDOZA, CRIZSHA ERIN PANELO
767 MENDOZA, IPOYOJA BANGKOT
768 MENDOZA, JANE ROSS
769 MENDOZA, LHEAN MICHEL GARCES
770 MENDOZA, MARIANNE CARIAGA
771 MERCADO, CARLITO JR GACILLOS
772 MERCADO, JONATHAN MESA
773 MERCADO, RONIELLER SANTOS
774 MESA, IVONNE JIMENEZ
775 MESIAS, JANNICA SALVILLA
776 MIEZA, KIM ANGELEEN MANALO
777 MIGUEL, BEE JAY PACPACO
778 MILLANO, KYLA ROCEL JUAREZ
779 MILO, KARIZZA CYRIENE CUELLO
780 MINAS, GERALDINE DUPINGAY
781 MIRANDA, GAYLE TRISHA ABON
782 MIRANDA, PATRICIA NADINE PONCE
783 MISME, KIT EMMAÑUEL ALFONSO
784 MITRA, JASMIN FLORES
785 MOGOL, ADRIAN KENDRICK BARONGAN
786 MOLINO, PATRICIA ALEXIS CUEVAS
787 MOLIT, PAMELA ZENIA SOREÑO
788 MONDERO, MELANIE MONDERO
789 MONDRAGON, JOEL CABALLES
790 MONTABLAN, ANGELICA MAE FARPARAN
791 MONTE DE RAMOS, KYRA MAE BUHAT
792 MONTEMAYOR, LOIS ZOE CHAVEZ
793 MONTES, CYRA CAROL RIO
794 MONTES, ROSAN DAROCA
795 MONTESEVEN, JESSA MAE YBALLE
796 MONTESEVEN, THAAIZHA SALARZON
797 MONTON, JIE ANN DEL ROSARIO
798 MORADOS, JAM MABINI ESPORLAS
799 MORALES, ANGELOU LUNOP
800 MORALES, CHRISTINE MAY SALAMAT
Roll of Successful Examinees in the
MEDICAL TECHNOLOGIST LICENSURE EXAMINATION
Held on MARCH 16 & 17, 2022 Page: 18 of 27
Released on MARCH 23, 2022
Seq. No. N a m e
801 MORALES, CINDY OLIVEROS
802 MORALES, KATE ALECKSANDRA CABUNGCAL
803 MORENA, ALEA CRIZELLE VERZO
804 MORENO, SPACER VALDECAÑAS
805 MORTEL, AILENE FORTEZA
806 MOSTOLES, LHEONARD FELIX SEBASTIAN
807 MUENA, SARAH DIANE DELA ROSA
808 NABONG, MA AMORELLE PRADO
809 NACIONALES, ERVIN JAY GUMAWA
810 NAGUIT, ROGIE BERNALDEZ
811 NAID, JONABELLE EGUICO
812 NAIR, JESSICA OLANO
813 NAKAN, JAMAICA ESMAIL
814 NAKILAN, ANLEAH DELA CRUZ
815 NALLIW, JOSANA TUGUINAY
816 NAPOLES, KHIMBERLY CASTILLON
817 NARAG, JOHN MICHAEL ROGUIN
818 NARCISO, MYHRA LAGRAN
819 NARVAEZ, NIKKI JEAN RAMOS
820 NASOL, BON JUSERLYN TALAUE
821 NATIVIDAD, JOMELAINE RIZZA BUENO
822 NAVAL, CLYDE WINSTON POYATOS
823 NAVAL, MONIQUE NUNAO
824 NAVARRO, MONINA DIGNO
825 NAVARRO, REGINA ESMADE
826 NAYAO, JOS ERIC BUYUCCAN
827 NEBRIA, DERYCK LEANNE SARMIENTO
828 NEBRIAGA, AMANDA MARIELLE TUNDAG
829 NEBRIL, MOEISSHA KAYLYLE OLINO
830 NELMIDA, MARIAH JANA CONCEPCION
831 NEPOMUCENO, THEIA CANDY LUMATAP
832 NERA, ENRIQUE III CORTAS
833 NERY, MA PAULA JOY DONGON
834 NIBAL, KENDRICK PAUL ANGSUCO
835 NICOLAS, KATHLYN JADE FERNANDEZ
836 NIEVERA, PATRICIA JOYCE RICO
837 NOBLE, MARIA RENEE LIAN BONOAN
838 NOVIZA, DANICA KATE MUÑOZ
839 NUEVO, ARIANE CUICO
840 OBGUIA, CARELLOUJALE BALIGUAT
841 OBINQUE, JOANA MARIE DE REAL
842 OBISO, KRISHNA YALYN CANAPE
843 OCAMPO, HANNAH VIANNEY MALLARI
844 OCFEMIA, ELIAZEL GALORIO
845 OCON, MARLON REMEDIO
846 ODDOC, JHANNELICA MAY VILLENA
847 ODEJAR, LOUISE ELAINE LACSON
848 ODUCADO, MARY ANTOINETTE IBUTNANDE
849 OFINA, PRINCESS ADA DIAZ
850 OLAGUERA, BONIFACIO FLORES
Roll of Successful Examinees in the
MEDICAL TECHNOLOGIST LICENSURE EXAMINATION
Held on MARCH 16 & 17, 2022 Page: 19 of 27
Released on MARCH 23, 2022
Seq. No. N a m e
851 OLERMO, CZARINA ANN TANJUAKIO
852 OLID, YVETTE JOYCE NGITNGIT
853 OLIQUINO, LOTUS GILOK
854 OLIVAS, MARIA CRISTINA GAID
855 OMAR, JUHAINIE MUSTAPHA
856 ONG, JEREMIE KEITH MANZANO
857 ONGPIN, REGINA MARIE NOVENARIO
858 OPPUS, ROSS AVECEL NIERRA
859 ORADA, WELLACE KRISTIN MARIE GEROMIANO
860 ORCULLO, KELLY RONQUILLO
861 OREDINA, ROMARIE ANNE CANTA
862 ORJALO, AIRAH JOYCE FULGENCIO
863 OROT, KHRISTIAN GERALD PAUL DAGANTA
864 OROZCO, CAMILLE GURANGO
865 ORTIAL, PRINCESS ANGEL PERIERA
866 ORTIZ, CAMILLE MANEJA
867 ORTIZ, EUNICE JESSICA SANTOS
868 ORTIZ, MARK DAVID LUMBANG
869 OSO, JEAN PAULINE VECINA
870 OTING, JASNIA DAUD
871 PABALINAS, JAHSEEN MAE ESGRINA
872 PABLICO, PAMELA DENISE BAUTISTA
873 PABLO, BEBILET DIZON
874 PACAMAMAN, SITTIE ZAMERA LAMALAN
875 PACHECO, HANNAH PATRIZE PAGDAYUNAN
876 PACHECO, PAMELA GWEN DE GUZMAN
877 PACLA, ALMA GRACE EUSEBIO
878 PACULBA, TIFFANY ROSE PATAY
879 PACURA, PARADISE PADILLA
880 PADILLA, ARAH MAE CAGUIOA
881 PADILLA, JOELLE TISHA SOQUE
882 PADILLA, JOSEPH LANCE VILLAFLOR
883 PADILLA, NIRA MYKA GARCIA
884 PADIT, LADY DIANE LIRIO
885 PADUA, JAN ANGELO CORDIAL
886 PADUA, MIKEE JOY CAPIRAL
887 PAGADUAN, MARIELLE ANNE MEMITA
888 PAGTALUNAN, KHRISHANEL ARAGAY
889 PAGUE, NJ DAVE AZUCENAS
890 PAGUIBITAN, MIKAELA DE LUNA
891 PAISO, REBECCA LOUISE GONZALEZ
892 PAJARES, ANNA ISABELLA PELITO
893 PAJO, RAE VHEN SAMBAJON
894 PALACIO, PRECIOUS CEE LACASTESANTOS
895 PALASPAS, JOANA PAOLA LACISTE
896 PALATULON, RHEVIE VIDAD
897 PALGUE, CHRISTIAN JAKE EMPESO
898 PALISOC, JEVY SOLITARIO
899 PALLEGA, JANIVIE GRACE PEPITO
900 PALMERA, STEPHANNIE LINDA CASTELO
Roll of Successful Examinees in the
MEDICAL TECHNOLOGIST LICENSURE EXAMINATION
Held on MARCH 16 & 17, 2022 Page: 20 of 27
Released on MARCH 23, 2022
Seq. No. N a m e
901 PAMATIAN, FREA LYN IQUIÑA
902 PAMI, SANETT OBALLO
903 PAMINTUAN, JOVIE CARL LOPEZ
904 PAMPLONA, CATHERINE GALLARDO
905 PANANGIT, EVA MARIE REFUGIO
906 PANAY, ABEGAIL BANGGALAT
907 PANGAN, CHARLES EDCEL CANDOR
908 PANGGA, JANREI DENZ GABRIEL VERGARA
909 PANOPIO, ISABELA RENEE APODERADO
910 PANUGAYAN, ELAINE NAZNEEN CU
911 PAPA, CHRISTIAN NOEL DOMINGO
912 PAPA, MARY MHEL PANAL
913 PAPA, RUCELLE LOUISE JINGCO
914 PARALLAG, KERR DUCAY
915 PARAYAO, MA VERNADETTE MANALANSAN
916 PARAÑAL, MJ PATRICK PEDRONAN
917 PAROHINOG, KATRINA COLEEN
918 PASAOA, MARC FREDRICK CUISON
919 PASCUAL, REMELYN WISDOM MADRIAGA
920 PASCUAL, RICCI BATOCTOY
921 PATAWARAN, PRINCESS DYAN DIGNENENG
922 PATENIA, CHANTAL LOUISE RAMIREZ
923 PAULE, CHRISTINE JOY MIGUEL
924 PECISION, MELZHEEN RABI
925 PEDRO, FRANCHETTE AGUDA
926 PELAEZ, PAMELA MOYA
927 PELAYO, DANIELLE BRYAN REYES
928 PELEGRINO, JOEMAR PASTERA
929 PELEJO, ORLANDO JR FLORENDO
930 PENDOG, JAVEMAR PELIGMAN
931 PENEYRA, NOREEN JOYCE TUGAOEN
932 PEQUIT, JESSA MAY LOMONGO
933 PERDIGON, FRANCES MARIE CLAIRE LINDERO
934 PEREZ, ANDREA PONTINO
935 PEREZ, JOY ABERIA
936 PEREZ, VERA ANNE CARAIG
937 PETATE, RUBY ROSE BRAZIL
938 PETINES, JAYSON VALDEZ
939 PEÑA, ADELAINE MARIE NOVAL
940 PEÑAFORT, CARLA RICA CONSTANTINO
941 PIANO, LADY KAYE ZUNIGA
942 PIEDAD, CHARLO AMOR
943 PIMENTEL, PRINCESS JUBILEE RIOFLORIDO
944 PINALGAN, HONEYLET RAYMUNDO
945 PINCA, AVIEL DELA TORRE
946 PINEDA, DEINE MARIAN DELARIMAN
947 PINEDA, KAORI PASCUAL
948 PITAGAN, CARLOS PRIMERO
949 PITOGO, NATHALIE JANE SAQUING
950 POKLIS, RIZA BANG-I
Roll of Successful Examinees in the
MEDICAL TECHNOLOGIST LICENSURE EXAMINATION
Held on MARCH 16 & 17, 2022 Page: 21 of 27
Released on MARCH 23, 2022
Seq. No. N a m e
951 PONCIANO, FAYE OLIVE OASAN
952 PONS, SHELEN CHICA
953 PORRAS, ALLEN MARIE ATHECRIEN MONDIA
954 PRAYCO, FLORINDA CABER
955 PRINCIPE, JAN SHANDEE DEMAISIP
956 PULANCO, MARK ROLYN CABREROS
957 PULINNEK, DANA LOUISE BAHNI
958 PUNGOT, ZEPURAH EMI BORNALES
959 QUEZON, MICHAEL ROBERT DIOSAY
960 QUIBUYEN, ROSELLE AGAS
961 QUIGAO, REYNALYN CALUDUCAN
962 QUIJALVO, JOANA MAE SAMPANG
963 QUINTERO, STEVEN WARREN ALEGADO
964 QUINTILLAN, CHRISTEL KATE MEJIA
965 QUINTINITA, JULIET GABATO
966 QUIRANTE, REYNALD BIANAN
967 QUIRES, CHRISTINE MAE TINAJA
968 QUIZON, FRITZI YAP
969 QUIÑONES, ALICIA KASSANDRA CASTAÑEDA
Exam Coverage
Clinical Chemistry
Microbiology and Parasitology
Clinical Microscopy
Hematology
Blood Banking and Serology
Hispathologic Techniques, Cytotechnology, Medical Technology Laws, Related Laws and its Implementing Rules and Code of Ethics
Aspiring medical technologists can visit PRC official website and use the verification page to view the board examination results and their passing rate. Examinees will be required to provide their full name, birthdate, exam name, date of examination and application number.
Requirements
The MedTech board exam results 2022 are expected to be released within four (4) to six (6) working days after the last day of examination or on March 22-23, 2022.
Note
However, the examinees should expect that the exam results might be released earlier or later than the expected date without prior notice from PRC.
Thank you for visiting Philippine Trending News (Philnews.ph). You may also follow us on the following social media platforms; Facebook, Twitter, and YouTube.