Here are the NAPOLCOM Exam Results July-August 2021 Including the 1st Class (Superintendent Passers)
Here are the NAPOLCOM Exam Results July-August 2021 including the 1st Class (Superintendent Passers) as per released by the National Police Commission.
The NAPOLCOM Examination Results 2021 including the list of passers and top 20 passers for PNP entrance and promotional exams will be available on this website after it will be released.
NAPOLCOM conducted the entrance and promotional examinations at testing centers in Makati, San Fernando (La Union), Tuguegarao, Angeles (Pampanga), Cabuyao, Calapan, Iloilo, Cebu, Tacloban, Calbayog, Pagadian, Zamboanga, Cagayan de Oro, Davao, Koronadal, Baguio, Butuan, and Cotabato, and in the provinces of Batanes, Cavite, Quezon, Albay, Kalinga and Tawi-Tawi.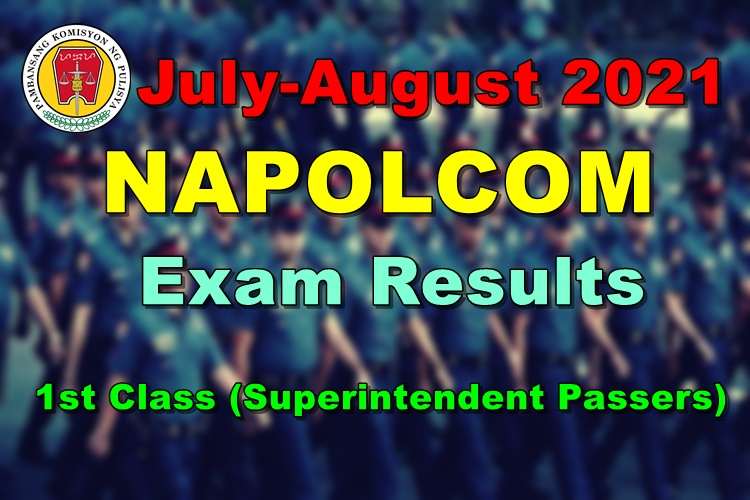 NAPOLCOM Vice Chairman and Executive Officer (VCEO) Vitaliano N. Aguirre II headed the conduction of the qualifying and promotional exams.
SUMMARY OF RESULTS
Here is the List of 1st Class (Superintendent Passers):
21-08-0100002, AGUILAR, MARK ARCHIE MELAYO
21-08-1100001, BIRUNG, GERALD BUCAYU
21-08-1200001, CABAHUG, JARON RUMULUS PAGHASIAN
21-08-1200003, CAPADOSA, KENT JEREK FLORES
21-08-0100001, CARIO, RICHARD GARCIA
21-08-1300001, COLANGAN, JOHN PAUL PANGANGAAN
21-08-0100007, DAQUIAL, ANDRESS IV TANGAN
21-08-1300006, HUMIWAT, HARRISON PA-AC
21-08-0300001, LOPEZ, ROMUALDO SISON
21-08-0500004, MORATALLA, JOENEL CENTENA
21-08-1100004, OY-OYAN, LANNON LATAWAN
21-08-1300005, PAGUIRIGAN, BOB STEPHEN LACHAONA
21-08-0100003, PANINGBATAN, JIMMY PABILONIA
21-08-0100005, ROXAS, MANUEL ASILO
21-08-1900001, SUETOS, ETHELL MAR MAGUDDAYAO
21-08-1500003, VIAJAR, CHRISTOPHER JOHN QUINTANA
21-08-0100004, WANDAS, JETRONE UBUAN
EXAM COVERAGE
PNP Entrance
General Information (Philippine Constitution and history, Philippine law and history, criminal justice systems, current events, social awareness, and value judgment)
Verbal Reasoning (Vocabulary, comprehension, grammar, the basic concepts and problem-solving skills of quantitative reasoning)
Verbal and Non-verbal Logical Reasoning
Promotional Exam Topics
General Information
Police Administration
Police Operations
Values and Ethical Standards
Release Date
The exam results are usually released within two (2) months after the exam or by September-October 2021.
Note
However, the Napolcom examination results might be released earlier or later than the expected date.
The PNP entrance exam is open to Filipino applicants who meet the standard age, height and educational requirements while the promotional examinations are limited only for PNP members who meet the qualifications.
Exam takers were advised to visit the NAPOLCOM official website for fast and reliable updates.
Thank you for visiting Philippine Trending News (Philnews.ph). You may also follow us on the following social media platforms; Facebook, Twitter, and YouTube.