Kind Jeepney Driver Earns Praises Online After Showing Kindness to Poor Passenger
A lady netizen lauded a kind jeepney driver for showing kindness towards a poor passenger who had no cash to pay the fare.
A Facebook user named Geah Ayson Estacion has expressed her praises and admiration towards a kind jeepney driver for showing kindness towards a poor passenger. The post garnered various reactions from the online community.
Geah narrated that she is riding on a jeepney heading to Kabankalan, Negros Occidental when the jeepney stopped to pick up passengers. A poor man suddenly asked if he could just take a free rider even outside of the jeep only because he had no money.
The jeepney driver allowed him and even urged the poor guy to enter the jeepney but the latter refused. The man in his 40s is carrying a bag of rice and wanted to go home to his family despite the inclement weather condition.
After a few moments, the rain suddenly falls and the jeepney driver told the man to go inside the jeep and sit. The driver told the passenger not to worry although he had no money.
Read Also: Jeepney Drivers Spotted Begging Along Balintawak Cloverleaf
Here is the full post:
"Just this afternoon my heart cried because of goodness.
It so happen, im riding on a jeepney travelling to Kabankalan and there's this heartwarming experience as of the moment.
The jeepney stopped at Brgy Isio and passengers were coming and there's this guy who went to the driver and said "Nong pwede kakabit lang ko sa likod, sa mangga lang man ko manaog kay wala gid ko inogplete" then Manong driver replied, "way kaso to ah sulod lang to sakay lang ayos lang gid na".
This guy's somewhat in his 40s base on his physical feature carrying a bag of rice and seems like he's determined to go home for his family. But whats amazing is this- I never saw any judgement and hesitation from the driver. Instead he added "sulod lang to kay gaulan"
This guy was standing at the back outside the jeepney( or sa aton dialect Gakabit sa buli sang jeep) and then the rain suddently fell abruptly. "Sulod lang to kay gaulan, mabasa ka da karon layo pa daan ang mangga", "sulod lang to bahala wala ka plete nd magkahuya waay gd na kaso", Manong Driver said. With hesitation and all, this guy went inside the jeepney and sat.
After witnessing this scenario my heart overflowed with tears and I literally cried.
Call me maarte or what but I really felt it. My heart was touched.
I feel so happy that there are still people with kindness and goodness within their hearts.
This is a wake up call to each and everyone of us to always have a heart to help in every possible way we can. Maybe some of us are just an answered prayer to others. Be a blessing to others just like Manong Driver.
We dont need to be rich for us to be able to help, we just need a heart. Even in simple ways, its a big blessing to those in need.
This is what the world needs right now. Because if we all have possessed a good heart we can change the world and make it a better place.
YOU CAN NEVER GO WRONG WITH KINDNESS!
But the fruit of the Spirit is love, joy, peace, longsuffering, gentleness, goodness, faith,
Galatians 5:22 Meekness, temperance: against such there is no law.
Galatians 5:23
BE BLESSED EVERYONE!
Ps. Shared this experience because I find it really touching. NO HATE, JUST LOVE PEOPLE
Pps. Sorry manong driver ginpictureran ta ka kawat lang kay naamaze gd ko sa kaayo mo. Kabay ibless ka gid ni God!"
The social media users expressed their reactions to the post: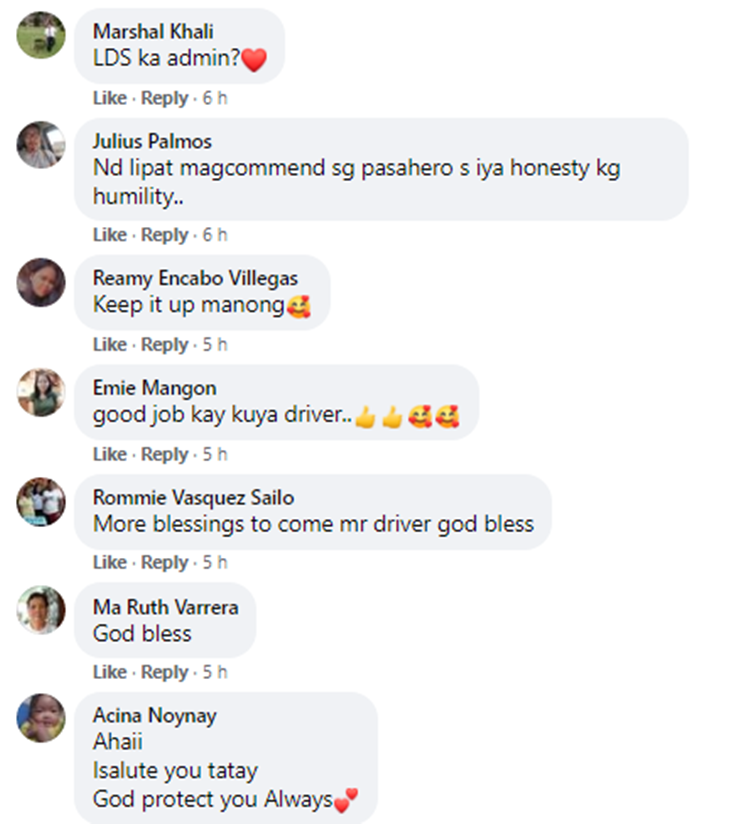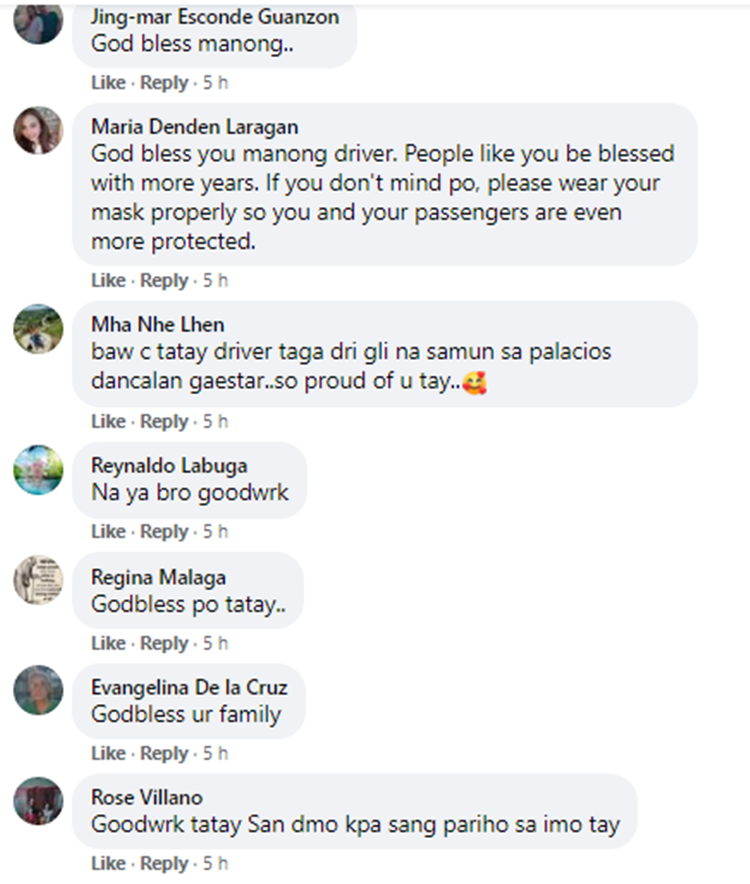 What can you say about this? Just feel free to leave your comments and reactions to this article.
Read Also: Jeepney Driver Earns Praises Online Over Design Suited for COVID-19 Pandemic
comment(s) for this post "Lady Netizen Lauded Kind Jeepney Driver For Showing Kindness to Poor Passenger". Tell us what you think abut this post by leaving your comments below.