Illegal LPG Refilling Plant Busted In Bulacan, 11 Nabbed
BULACAN – The Bulacan Intelligence Unit busted an illegal LPG refilling plant in Norzagaray and arrested 11 individuals there.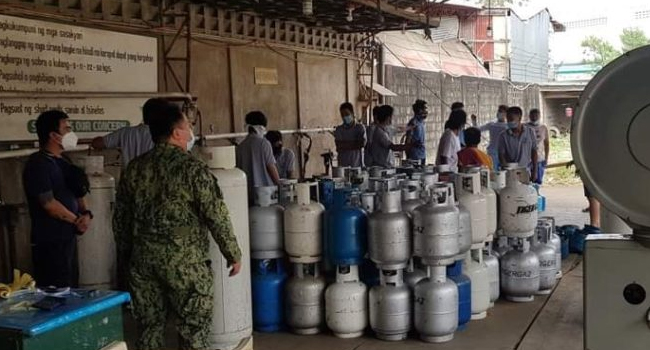 The arrested were engaged in the illegal trade of petroleum products in Barangay Bigte in Norzagaray, according to a report from Manila Bulletin.
Recovered from the site were over a hundred LPG tanks and vehicles.
Provincial director Col. Lawrence B. Cajipe identified the suspects as the following:
Enrique Rivera III of Brgy. Sta.Rosa II Marilao;
Gemma Rosello of Pabahay Muzon, City of San Jose Del Monte;
Arsenito Diocampo of Barangay Minuyan City of San Jose Del Monte;
Mark Anthony Casucot of Nabus Bigte, Norzagaray;
Richard Suerte Felipe of Kamagong St. San Vicente Malolos City;
Joel Buloron of Barangay Bigte, Norzagaray;
Randmar Castro of City of San Jose Del Monte;
Mark Gil Carin of Nabus Bigte, Norzagaray;
Francisco Ramos of Brgy. San Vicente, Malolos City;
Paul John Sarenas of Barangay Bigte, Norzagaray;
and Mark Anthony Torrenueva of Barangay Bigte, Norzagaray
The BIU's operation was conducted based on an anonymous letter from an individual who claimed to be a legitimate refiller of Liquefied Petroleum Gas (LPG).
The operation was conducted inside Tiger Gaz Corporation LPG Refilling Plant in Barangay Bigte.
The suspects were nabbed in the act of refilling several LPG tanks without brand names. Others, on the other hand, bear various brands such as Petron, Solane, Phinoy, Rising Sun, Continental, Shellane, Sam Gas, among others.
The suspects failed to present pertinent documents/permits from the Department of Energy, and the Bureau of Fire Protection, as well as authorization from the company that owns the tanks/cylinders, based on the report.
The arrested suspects, as well as the seized LPG tanks and vehicles were taken to the Provincial Intelligence Unit at Camp General Alejo Santos in Malolos City for documentation and filing of a criminal complaint before the Bulacan Provincial Prosecutors Office for violating PD 1865.
What do you think of this report? How will you react to this? Let us know more about it in the comments below.

READ ALSO:
– 3 Suspected NPA Members Slain In Agusan Del Sur Encounter
– Teacher Air Dismay After Unknown Couple Use Her Classroom on Feb. 14
Check out our latest news at philnews.ph or in our following social media pages
Facebook: /PhilNews
Twitter: @PhilNews247
Instagram: @philnewsph