What Is The Pacific Ring Of Fire? About The Arc In The Pacific Ocean
PACIFIC RING OF FIRE – In this topic, we are now going to know about an arc called the Pacific Ring of Fire.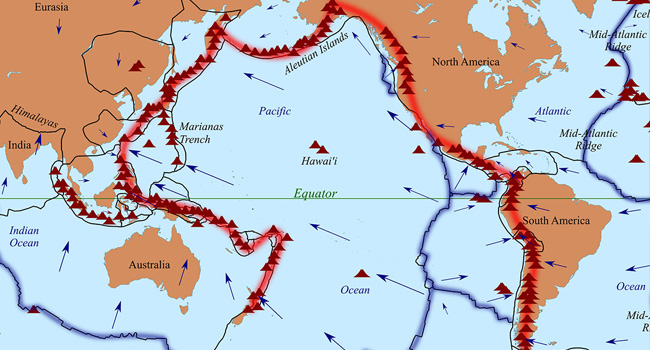 Also known as the Pacific Rim, it is an arc around the Pacific Ocean where many volcanoes and earthquakes are formed.
The term Pacific Rim is used to refer coastal areas of nations around the Pacific.
The ring contains at around three-fourths of the globe's dormant and active volcanoes, about 452 of them. It is about 40,000km long.
Most of the world's earthquakes and most of the world's largest earthquakes occur along the Ring of Fire.
Volcanoes in the Ring of Fire

Here are some of the volcanoes in the Ring of Fire.
Barren Island in the Andaman and Nicobar Islands, India
Bogoslof island in Alaska
Mt. Chimborazo in Ecuador
Mt. Galeras in Colombia
Mt. Kelut in Indonesia
Mt. Krakatoa in Indonesia
Mt. Mayon in Albay, Philippines
Mt. Pinatubo in Philippines
Mount Slamet in Central Java, Indonesia
Mt. Popocatepetl in Mexico
Mt. Taal in Philippines
Mt. Sakurajima In Japan
READ ALSO: COUNTRIES IN ASIA – List Of Countries In The Largest Continent