FACT CHECK: Is "No Classes For All Memorandum" Signed By President Duterte?
NO CLASSES FOR ALL MEMORANDUM – A netizen recently debunked a viral post claiming that a no class memo was signed by President Duterte.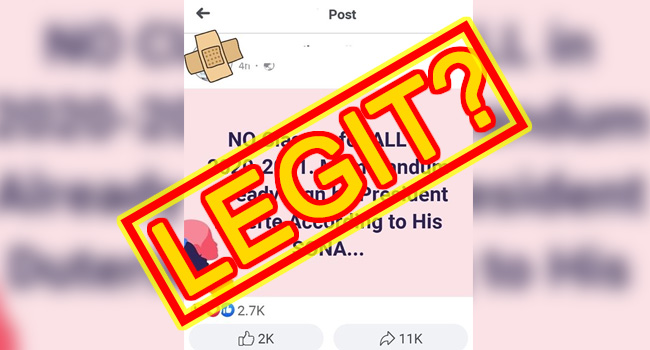 Netizen Al Cagmat recently posted a reaction post regarding a viral post claiming that President Duterte signed a "memorandum" that there will be no classes for all in the y ear 2020-2021.
According to his post, the status was posted at 8 AM this morning by a netizen. Al said that on the contrary, the fifth SONA hasn't started yet and it was rendered fake news due to the fact that "there were no announcement of academic freeze yet".
The said viral post gained 11K shares and over 2K reactions. Furthermore, the post was passed from one netizen to the other.
The said viral post has long been deleted, according to Al as he remind netizens not to believe everything you read from the social media.
He then said to those who have ascendency to watch the words since the stuff that we post, share, oir say might have impact.
Lastly, Al reiterated that we must fact-check the things that we hear and read.
Here is the said post on Facebook:
The post gained at about 178 reactions, mostly haha, like, and sad reacts, and 341 shares as of the moment. Here are some of the comments:
"Wapa guro na ka log out sa iyang damgo sir HAHAHAHAHAHAHAH aw 😂"

Gel Uygioco on Facebook
"Hahahahaahahahahah nahimuot jd ko ani oy. Pero at the same.time alarming kay daghan shares. Tsk. Dpat jud ni ireport"

Kurtnhy Maderal on Facebook
"She's not in the position. But mao lage, she's a teacher and I would assume a lot of students will see her post and share it withoud validating its authenticity. **."

Mitch Tabach on Facebook
What do you think of this report? How will you react to this? Let us know more about it in the comments below.

READ ALSO: JUST IN: Deputy Speaker Johnny Pimentel & 25 Congress, Office of the President Staff Positive for COVID-19
Check out our latest news at philnews.ph or in our following social media pages
Facebook: /PhilNews
Twitter: @PhilNews247
Instagram: @philnewsph