What Are Antonyms? Meaning And Examples
WHAT ARE ANTONYMS – In this topic, we are going to learn and know the meaning of antonyms and identify some of the examples.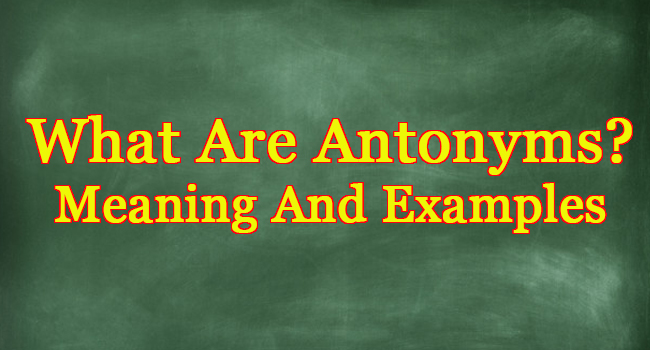 Definition

By definition, antonyms are two words that have exact opposite meanings from each other. By opposite, it means that the meaning of the other word it is compared to is the other way around.
The counterpart for antonyms are synonyms, which means two words that have a similar or same meaning. The term synonym itself is the antonym for antonym, for example.
Examples

Here are some of its examples:
Above

Below
Under
Underneath
Beneath

Doctor
Young
There are times that the antonym is not an entirely different word since applying a prefix to the word is one way of making one.
The prefixes used to create an antonym are dis-, in-, mis- , un-, and non-. Here are some of the examples:
Dis–

Appear – Disappear
Belief – Disbelief
Able – Disable

In–

Capable – Incapable
Tolerant – Intolerant
Discree – Indiscreet
Different – Indifferent
Considerate – Inconsiderate

Mis–

Behave – Misbehave
Lead – Mislead
Read – Misread
Spell – Misspell
Understanding – Misunderstanding

Un–

Breakable – Unbreakable
Believable – Unbelievable
Acceptable – Unacceptable
Dying – Undying
Like – Unlike

Non–

Stop – Non-Stop
Entity – Nonentity
Existent – Non-existent
Sense – Nonsense
Fiction- Nonfiction
READ ALSO: Twice A Number Increased By 5 Algebra Problem Solutions