What happened to the Twitter account of Ethel Booba?
Comedienne-singer Ethel Booba reveals through her recent Instagram post that a Twitter account using her name and with 1.6 million followers is a fake.
@IamEthylGabison is one of the most popular accounts on Twitter, especially for those who are critics of the present administration. The said account on the micro-blogging site is known for lambasting government officials and criticizing political personalities.
With her screen name and the content of the tweets, some netizens were apprehensive if it was really her who was posting those tweets. A netizen directly asked her about this. In her reply, she shared that she has a social media consultant who edits most of her tweets.
Ethel also had an interview regarding her famous and controversial tweets. A video posted on the YouTube channel of ABS-CBN News, journalist Anthony Taberna interviewed the comedienne regarding her social media account in 2018.
"Comedian Ethel Booba talks about her witty commentaries on political issues on social media particularly on Twitter, and how she benefited from it," the caption of the video stated. Ethel shared that she lets her friends edit her English tweets.
However, in her recent Instagram post, Ethel denied the said Twitter account. "BEWARE of this FAKE! twitter!" she wrote. She even used the hashtag "Stop using my name". Several netizens expressed various reactions to this.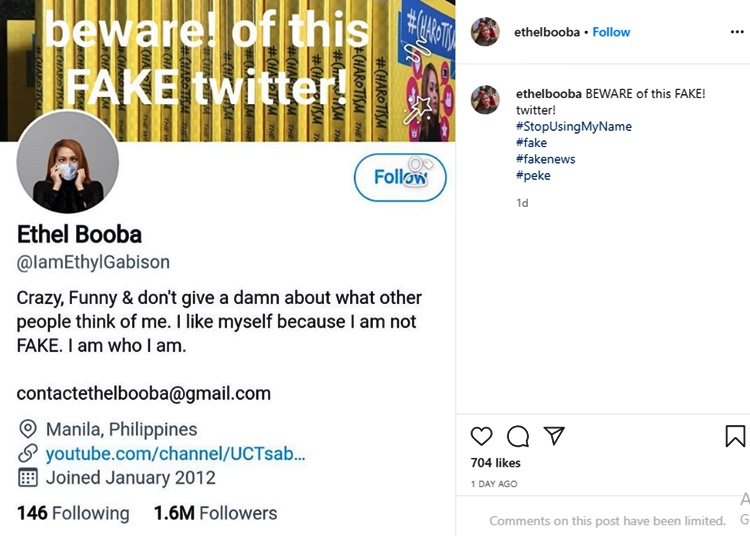 Some said that the government shut down her account while some said that it was really not her tweeting those controversial remarks. A netizen even shared another interview wherein Ethel acknowledge the said Twitter account as she said she has an "admin" for that.
What can you say about this?
READ ALSO: Facebook Mind Games: Answers Revealed To Stop The Viral Posts