What Is "Lugi" In English? (Answers)
LUGI IN ENGLISH – There are several English words that do not have a direct translation in Tagalog, that's why we need context to fully translate them.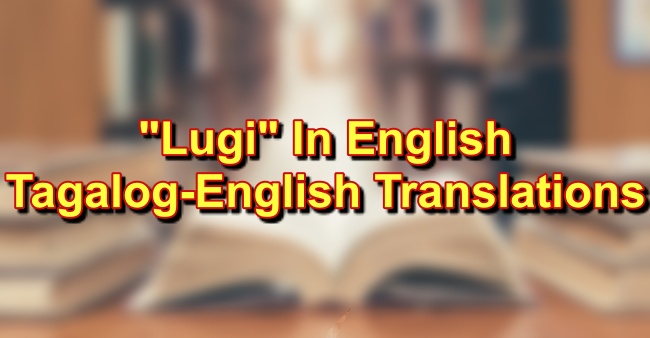 In this article, we are going to talk about the English translation of "Lugi" based on different contexts.
Lugi can be described as a "Loss". Oftentimes, it is associated with "financial loss".
Here are some example sentences:
Pumasok sa negosyo si Peter pero na lugi siya agad at hindi na bumalik.
Malaki ang lugi ng pamilya ko sa investment nila.
Luging-lugi kayo diyan laban sa mga online store, dapat pumasok na rin kayo sa online.
Nalugi ang business-venture ni Ella pero hindi siya sumusuko rito.
Kung bibigyan kita ng discount, lugi na ako dito.
In English the sentences could be translated as:
Peter made a business but had a huge loss right away causing him to not go back to it.
My family lost a lot in their investments.
You're going to lose a lot if you go against online stores, you should just have an online business instead.
Ella's business venture had a great financial loss, but it didn't stop her from continuing her business.
If I give you a discount, then I wouldn't even breakeven.
It could also be used to describe an innate disadvantage. For example:
Lugi talaga ang Red team sa Blue team kasi mas malaki ang Blue team.
Sa larong iyon, halata naman na Lugi si Peter laban kay Eric.
Translation:
The Red team certainly had a disadvantage as the Blue team was much bigger.
In that game, it was obvious that Peter had a disadvantage against Eric.
For other English-Tagalog translations…
VISIT: English To Tagalog Translate – List of English-Tagalog Word Translation