What Is Reklamo In English? (Answer)
REKLAMO IN ENGLISH – There are several Filipino words that do not have a direct translation in English, that's why we need context to fully translate them.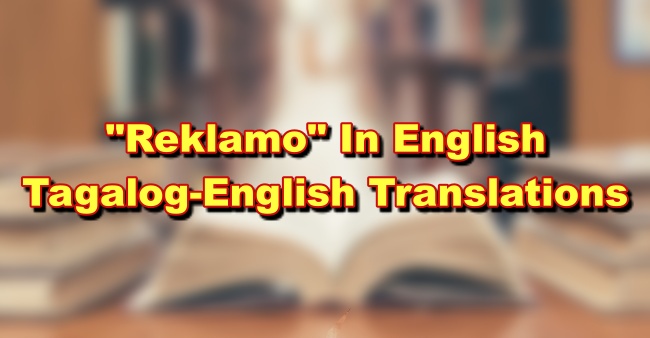 In this article, we are going to take a look at the Tagalog word "Reklamo" and its translation in English.
Reklamo means either "complain" or "report" depending on the context. Here are some examples:
Huwag ka ng mag reklamo, mag trabaho ka na.
Dahil sa aksidente, sumampa sila ng reklamo sa police.
In English these could be translated as:
Don't complain, just do your job.
Because of the accident, they reported a complaint to the police.
Depending on the prefix and postfix, the word could also take a different meaning.
For example:
Reklamador = complainer
Mareklamo = easy to complain
Nagrereklamo = complaining
Here are some more examples:
Ayaw kong magreklamo, pero pagod na ako.
Mareklamo talaga si Peter.
Pumunta sa police ang ina na nagrereklamo ng kanyang asawa.
These sentences could be translated as:
I don't want to complain, but I'm really tired.
Peter complains easily.
The mother went to the police to file a complaint against her husband.
Thanks for reading. We aim to provide our readers with the freshest and most in-demand content. Come back next time for the latest news here on Philnews.
Like this article? READ ALSO: Paasa In English: Tagalog-English Translation Of "Paasa"