What Is "Paasa" In English? (Answers)
PAASA IN ENGLISH – There are several Filipino words that do not have a direct translation in English, that's why we need context to fully translate them.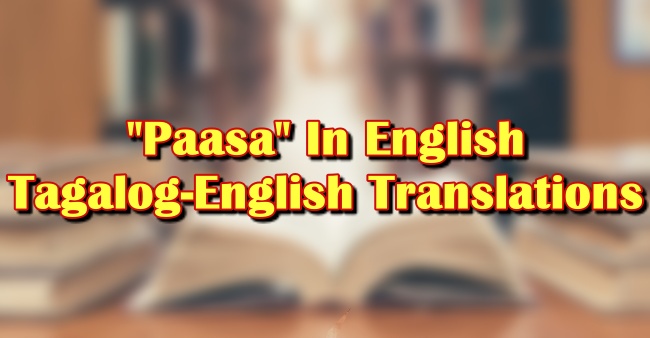 In this article, we are going to learn the English translation of the Tagalog word "Paasa" and how it is used based on different contexts.
To define "paasa" we need to look at its root word, "asa", which means hope. Nowadays, the word is used to describe someone who gave you false hope, especially in love.
Here are some example sentences:
Paasa ka talaga Peter, akala ko mahal mo ako.
Huwag kang paasa lamang sa gawain mo, final project natin ito.
Paasa talaga itong bogus seller, nag backout siya last minute sa meet-up.
Pinapaasa mo lang ako.
The sentences could be translated to:
You just led me on Peter, I thought you loved me.
Don't give us false hope that you're going to do your part, this is our final project.
This bogus seller just led us on and backed out at the last minute.
You're just leading me on.
Meanwhile, you could also use "Umaasa" to describe that you still have hope.
Umaasa pa ako na mahal niya ako.
Bumalik kana dito Suzy, umaasa pa si Naru sa pagbalik mo.
In English this could be translated as:
I have hope that she still loves me.
Come back here Suzy, Naru's still hoping that you'll return.
You could also use "Pag-asa" which means "there's still hope".
The sentence, "Huwag kang mawalan ng pag-asa!" could be translated as "Don't lose hope!".
Thanks for reading. We aim to provide our readers with the freshest and most in-demand content. Come back next time for the latest news here on Philnews.
Like this article? READ ALSO: Sundo In English: Tagalog-English Translation Of "Sundo"