Here is the Dentist Board Exam Result December 2019 (Written & Practical Phase)
Dentistry Exam Results 2019 – The Professional Regulation Commission is about to release the Dentist Board Exam Result December 2019 (Written and Practical Phase).
The December 2019 Dentistry Board Exam Results including the list of passers, top 10 passers, top performing and performance of schools will be available on this website after it will be released.
The Dentistry licensure examinations have been given at PRC testing center in Manila on December 3-5, 2019 (Written phase) and December 15-18, 2019 (Practical phase).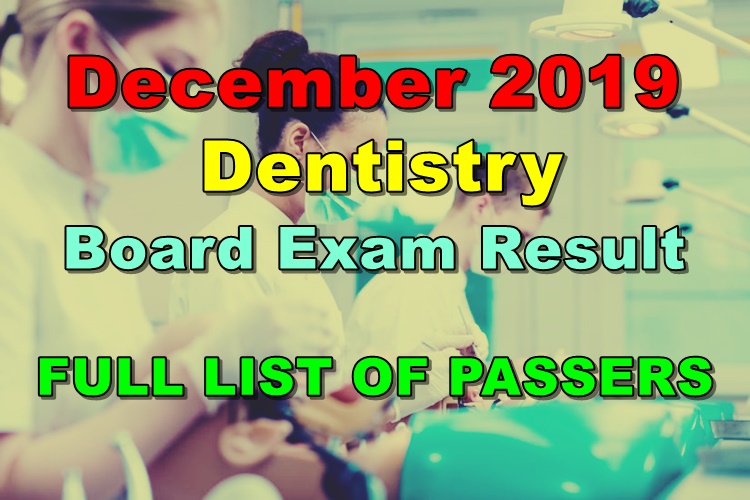 PRC Board of Dentistry headed by its Officer-In-Charge, Dr. Maria Jona D. Godoy and its members, Dr. Roberto M. Tajonera, Dr. Melinda L. Garcia, Dr. Rannier F. Reyes and Dr. Carlito D. Paragas administered the board exams.
SUMMARY OF RESULTS
Exam Coverage
General and Oral Anatomy and Physiology
General and Oral Pathology, General and Oral Microscopic Anatomy and Microbiology
Restorative Dentistry, Public Health and Community Dentistry
Prosthetic Dentistry
Roentgenology, Oral Diagnosis and Surgery
Anesthesiology and Pharmacology
Pediatric Dentistry and Orthodontics
Dental Jurisprudence, Ethics and Practice Management
Periondontics and Entodontics
Release Date
The Dentist licensure exam results are expected to be released within two (2) days after the last day of examinations.
Note
However, the exam results might be released earlier or later without prior notice from PRC.
Registration Requirements
Successful examinees are required to personally register and to bring the following:
Notice of Admission/NOA (for identification purposes only)
Duly accomplished Oath Form or Panunumpa ng Propesyonal
Two (2) pieces of passport-sized ID photos in white background and with complete name tag
Two (2) sets of documentary stamp
One (1) piece short brown envelope
comment(s) for this post "Dentist Board Exam Result December 2019 (Written & Practical)". Tell us what you think abut this post by leaving your comments below.