Examples Of Countries In The World Under The Monarchical Government
MONARCHICAL GOVERNMENT – In this topic, we will now know and identify the countries that are under the monarchical government.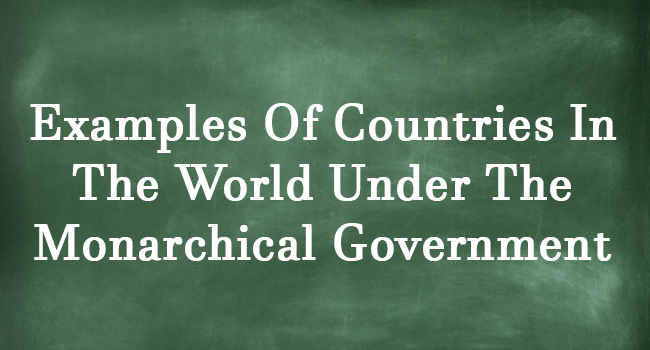 There are various types of government, with some of them are: democracy, oligarchy, theocracy, authoritarianism, totalitarianism, and of course, monarchy, which is part of our main topic today.
Monarchy, as mentioned previously, is the rule of one. This is ruled by a king or an emperor or generally, a monarch.
Here are examples of monarchical countries, accoeding to InfoPlease:
Country | Ruler or Monarch
Bahrain | King Hamad bin Isa al-Khalifa
Belgium | King Philippe (2013)
Bhutan | Jigme Khesar Namgyal Wangchukin
Brunei | Sultan Haji Hassanai Bolkiah
Cambodia | King Norodom Sihamoni
Denmark | Queen Margrethe II
Japan | Emperor Akihito
Jordan | King Abdullah II
Kuwait | Sabah Al-Ahmad Al-Jaber Al-Sabah (2006)
Lesotho | King Letsie III
Liechtenstein | Prince Hans Adam II
Luxembourg | Grand Duke Henri
Malaysia | Almu'tasimu Billahi Muhibbuddin Tuanku Alhaj Abdul Halim Mu'adzam Shah Ibni Almarhum Sultan Badlishah
Monaco | Prince Albert II
Morocco | King Muhammad VI
Netherlands | King Willem-Alexander
Norway | King Haraid V
Oman | Sultan Qabus ibn Sa'id
Samoa | Tuiatua Tupua Tamasese Efi
Saudi Arabia | King Salman
Spain | Felipe VI
Swaziland | King Mswati III
Sweden | King Carl XVI Gustaf
Thailand | Prem Tinsulanonda, regent
Tonga | King Tupou VI
United Kingdom | Queen Elizabeth II