What Are The Equipment Used In Rhythmic Gymnastics
RHYTHMIC GYMNASTICS – In this topic, we will now learn and know the different apparatus or equipment used in rhythmic gymnastics.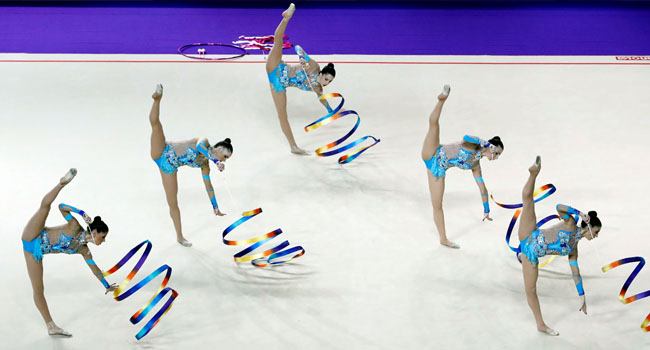 Rhythmic gymnastics is a sport where participants, solo or groups of five, use one or two pieces of equipment. It is an amalgamate of ballet, gymnastics, dance, and equipment manipulation.
The participant have to execute a number of leaps, balances, pirouettes (pivots), apparatus handling, and execution in order to gain points.
Equipment
Rope

It is made of hemp or a light synthetic. When using this, it should reach both of the gymnasts' armpits. The rope should have one or two knots on each ends in order for the gymnast to keep hod of it

Hoop

Made of plastic and wood, it is a circular apparatus which has a diameter ranging from 51 to 90 centimeters. Gymnasts will be able to rotate it with either their hands or their body.

Ball

The ball is made of rubber or a synthetic, has a diameter of 18 to 20 centimeters and its minimum weight is 4000 grams. When using the ball, it should rest in the gymnast's hand and should not be grasped or rest on the wrist.

Clubs

Also known as juggling clubs, these are solely made for juggling. These are also known as pins or batons.

Ribbon

It is composed of a satin ribbon and a handle made from wood, bamboo or plastic.
READ ALSO: Sleep – How Does Getting 8 Hours Of Sleep Affect Your Body?