Pork Barrel Queen Janet Napoles Among Convicts Listed For GCTA
JANET LIM NAPOLES – Pork Barrel Queen Janet Lim Napoles, who was convicted back in 2015, was on the list of prisoners eligible for early release under the Good Conduct Time Allowance (GCTA).
Aside from the plunder conviction, Napoles was also the alleged mastermind of the P10-billion pork barrel scam. The "Pork Barrel Queen" was sentenced to life because of the plunder case.
Although, in the documents obtained by the Senate, it showed Napoles was charged for rape, not plunder. In lieu of this, Sen. Richard Gordon voiced his dismay.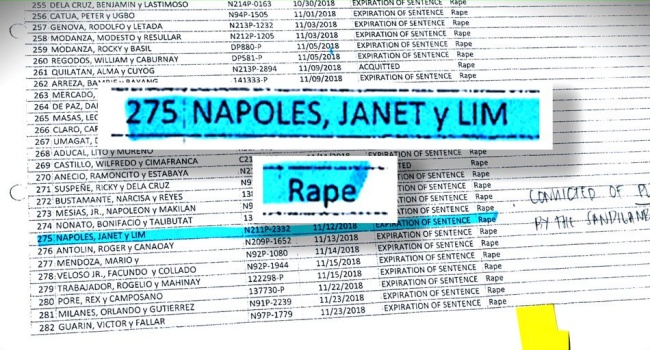 According to an interview with ABS-CBN, Gordon said that the Bureau of Corrections officials were so incompetent. He added that he would put BuCor on blast because of this.
There are already a handful of BuCor officials suspended for being connected with the GCTA for sale controversy. Among those were Ramoncito Roque and Belinda Bansil.
Afterwards, the Senator questioned if BuCor had intentions to release Napoles. He then contemplated as to why Napoles was charged with rape and not plunder.
"There's something to it", the Senator said. Because of this issue, Justice Undersecretary Deo Marco stated that an investigation is on going.
In an interview, Marco stated that he would ask BuCor to explain. He added that it either Napoles was really on the list or it was just an encoding error.
Marco also added that the Philippine National Police had already looked into the mistake. Likewise, the justice department has also stated that it could present a clearer list of prisoners under GCTA.
Based on an investigation by ABS-CBN, it showed that some of the names on the GCTA list were wrong. This was also true for the prison numbers.
Thanks for reading. We aim to provide our readers with the freshest and most in-demand content. Come back next time for the latest news here on Philnews.
Like this article? READ ALSO: BuCor Exec Questioned For Alleged Jamming With Chinese Drug Lords