Here is the Environmental Planner Board Exam Result August 2019 (SPLE) Including the Full List of Passers
The Professional Regulation Commission is about to release the Environmental Planner Board Exam Result August 2019 (SPLE).
The Environmental Planner Special Professional Licensure Exam (SPLE) including the list of passers, top 10 passers, top performing and performance of schools will be available on this website after it will be released by PRC.
The August 2019 Environmental Planner SPLE have been given at PRC testing centers in Riyadh, Jeddah, and Al-Khobar, KSA; Abu Dhabi, UAE; Doha, Qatar; Al Ahmadi, Kuwait; and Manama, Kingdom of Bahrain on August 12 and 13, 2019.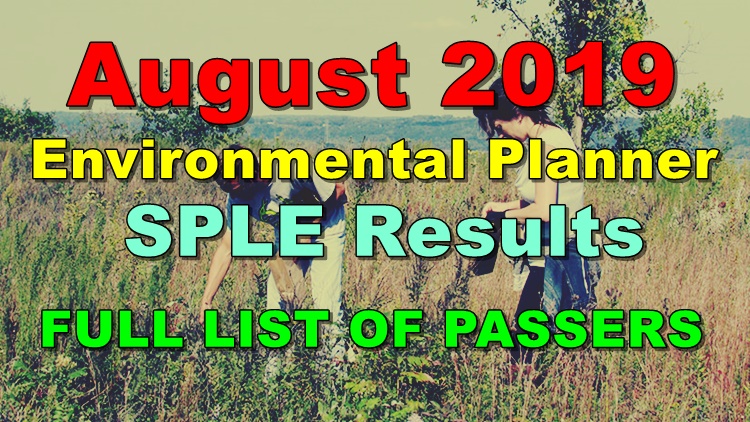 PRC Board of Environmental Planning headed by its Chairman, Josefina M. Ramos and its members, Lirio T. Abuyuan and Dolores A. Endriga administered the licensure examinations.
Here is the List of Passers:
Roll of Successful Examinees in the
ENVIRONMENTAL PLANNER LICENSURE EXAMINATION (SPLE)
Held on AUGUST 12 & 13, 2019 Page: 2 of 2
Released on AUGUST 27, 2019
Seq. No. N a m e
1 ALLANI, IBRAHIM EDDING
2 AQUINO, RONDEE MANILING
3 BALDE, ARECLES AYCARDO
4 BONGATO, REINERIO ACASIO
5 CARBO, HENRY DELANTAR
6 CELESTINO, RONALDO CLAUDIO
7 DAMASCO, JERKY VIDAL
8 DE VERA, BERNARD YLANAN
9 DEZA, RICARDO PADILLA
10 DOMINGUEZ, RYAN CRUZ
11 DULFO, ELIE VOLOSO
12 EDRAD, MICHAEL HONTANOSAS
13 ELEGUIR, BENSUARDO JR CALONIA
14 ESLABON, BOBBY MAR VARGAS
15 ESTABILLO, VANESSA TAGUINOD
16 ESTRELLA, BELYNDA DE LEON
17 FLORES, ROY BANGCAYRIN
18 FORONDA, ROMEO JR DEBAD
19 GAYO, JOMEL CASAR
20 HUYNO, PRESSIE OTARA
21 IBAY, RAUL SUBIDO
22 JABOLA, FERNANDO YAYAIN
23 KAMIR, AMIR-HUSSEIN SINSUAT
24 LOPEZ, EDUARDO JR ROQUE
25 MALOBAGO, REY BASILOY
26 MANDIA, ERWIN FIDELINO
27 MARAPAO, DENNIS CORPUS
28 MENDEZ, SANTIAGO AUTIDA
29 MILANO, JEOFFREY RAMOS
30 MOHAMMAD, MOHALIDEN MUSA
31 MOTA, DENNIS SARMIENTO
32 NACION, ANGELITO MARTINEZ
33 PANADO, ANGELOV GOTANGOGAN
34 PANGANIBAN, REXTER SACE
35 PASION, DARYL CABAÑEROS
36 PELAYO, JERIC SANTIAGO
37 PONCE, LLOYD SR RACAZA
38 QUIOGUE, KRIZ SAMED MANGILAYA
39 RAMA, RENEBOY ALTAR
40 SAQUIDO, ARTURO SAMONTE
41 SEMBRANA, ORLANDO PARAGAS
42 SERRANO, NOEL PALAD
43 SY, JUBERT ROMARATE
44 TEODORO, MARCO GARCIA
45 TUANDO, LEANDRO CEBLANO
46 VARGAS, CHARLIE CIELO
NOTHING FOLLOWS———————-
Here are the Top 10 Passers:
Not posted
Here are the Top Performing & Performance of Schools:
Not posted
Exam Coverage:
Environmental Planning Processes, Techniques, and Strategies
History, Concepts, Theories, and Principles of Environmental Planning
Environmental Plan Implementation, Legal Aspects, and Administration
Release Date:
The Environmental Planner SPLE Results are expected to be released within 1-2 months or from September to October 2019.
Note:
The exam results might be released earlier or later without prior notice from PRC.
comment(s) for this post "Environmental Planner Board Exam Result August 2019 (SPLE)". Tell us what you think abut this post by leaving your comments below.