Here is the Electronics Technician Board Exam Result August 2019 (SPLE) Including the Complete List of Passers
The Professional Regulation Commission is about to release the Electronics Technician Board Exam Result August 2019 (SPLE).
The Electronics Technician (ECT) Special Professional Licensure Exam (SPLE) including the list of passers, top 10 passers, top performing and performance of schools will be available on this website after it will be released by PRC.
The August 2019 ECT SPLE have been given at PRC testing centers in Abu-Dhabi, United Arab Emirates; Al Ahmadi, Kuwait; Al-Khobar, KSA; Doha, Qatar; Jeddah, KSA; Manama, Kingdom of Bahrain and Riyadh, KSA on August 12, 13, and 14, 2019.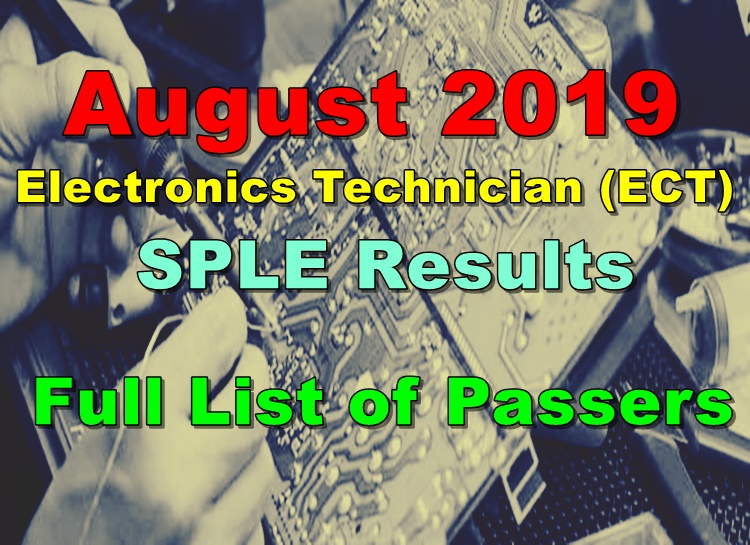 PRC Board of Electronics Engineering headed by its Chairman, Engr. Alnar L. Detalla and its members, Engr. Enrico Claro R. Delmoro and Engr. Herminio J. Orbe administered the licensure examinations.
Here is the List of Passers:
Roll of Successful Examinees in the
ELECTRONICS TECHNICIAN LICENSURE EXAMINATION (SPLE)
Held on AUGUST 14, 2019 Page: 3 of 3
Released on SEPTEMBER 23, 2019
Seq. No. N a m e
1 ABARCA, ANSYL MARC SEVILLANO
2 AGUINALDO, LEONARD BLANDO
3 ALINSUAG, EDSAN SALDAÑA
4 APIAG, ROVEL ALVARICO
5 ATANOZA, JOEY ABILLAR
6 BAIDIANGO, ROSELLE FAITH ROSAURO
7 BASCOS, LEINBERG ARNE ILUIS
8 BESE, JERRY SALI
9 BINAORO, ANEVER MABALOD
10 BUHION, DOMINGO JR GLINOGO
11 CANO, KELVIN FRANCISCO
12 CELO, KARL ANTHONY SANTIAGO
13 CONTILLO, LORETO UNIDA
14 CUNANAN, MA-ANN MARTIN
15 DALIDA, RODEL RODRIGUEZ
16 DAVID, MARK GESTA
17 DE LUNA, CHERYL PALOMO
18 DELFIN, ALEJANDRO JR NACUA
19 DELOS SANTOS, SAMUEL MOTAS
20 ESCALANTE, MICHAEL BACHAR
21 FAMINIAL, VIRGILIO JR EVANGELIO
22 FLORENDO, AUDIE REY BICO
23 GABRIEL, ROMAN SALVADOR
24 HUGANAS, JAMES ROSARIO
25 JUL, JUDIMAR ABBAS
26 LAVARIAS, CELERINO OCCEÑO
27 LOFRANCO, PERCELO ONTONG
28 LUBRIN, LESTER SALAZAR
29 MACAYAN, CHRISTOPHER MINA
30 MAGISTRADO, LORMEL TADURAN
31 MANALANG, SIDNEY BONQUIN
32 NARDO, MHEL ROLANE MALING
33 NARRIDO, RODERICK BATOBALONOS
34 PABABERO, ROLAND CAO
35 PANITAN, GRAYNNE ANGEL SICAM
36 QUEDDENG, ELBERT MUTYA
37 RADJAH, ABDULMUNIB DARAWI
38 RAMIREZ, RAYMOND JOSEPH VENIOLA
39 REQUIRON, RICHARD LOMOCSO
40 ROJAS, JULITO JR PEREYRA
41 ROMERO, PAUL BENJIE PARAGAS
42 SADJARANI, ALPHASAD INGGO
43 SANTIANO, JERVIN MONROYO
44 SEVILLA, MISAEL MALANDOG
45 SORIANO, RONALD ALBERTO
46 TABIL, JESSIE ABLOG
47 TAMAYO, NIKO JAMES TOVERA
48 VILLAFUERTE, FELIPE ESCOBIDO
49 YDIO, JAZPER VENTURA
50 ZAIDE, ALEXANDER AVILA
NOTHING FOLLOWS———————-
Here are the Top 10 Passers:
Here are the Top Performing and Performance of Schools:
Exam Coverage
Technical Subjects and Laws and Ethics – (Basic Mathematics, Ohm's Law, Electronic/Electrical Machine or Equipment, Test Equipment, Electronic/ Electrical Component, Maintenance and Repair, Philippine Electrical Code, Philippine Electronic Code and RA No. 9282)
Release Date
The ECT SPLE results are expected to be released within 1-2 months after the last day of examinations.
Note
The exam results might be released earlier or later than the expected date without prior notice.
comment(s) for this post "Electronics Technician Board Exam Result August 2019 (SPLE)". Tell us what you think abut this post by leaving your comments below.