Here is the Electronics Engineer Board Exam Result August 2019 (SPLE) Including the Full List of Passers
The Professional Regulation Commission is about to release the Electronics Engineer Board Exam Result August 2019 (SPLE).
The Electronics Engineer (ECE) Special Professional Licensure Exam (SPLE) including the list of passers, top 10 passers, top performing and performance of schools will be available on this website after it will be released by PRC.
The August 2019 ECE SPLE have been given at PRC testing centers in Riyadh, Jeddah and Al-Khobar, KSA; Abu Dhabi, UAE; Doha, Qatar; Al Ahmadi, Kuwait; and Manama, Kingdom of Bahrain on August 12-14, 2019.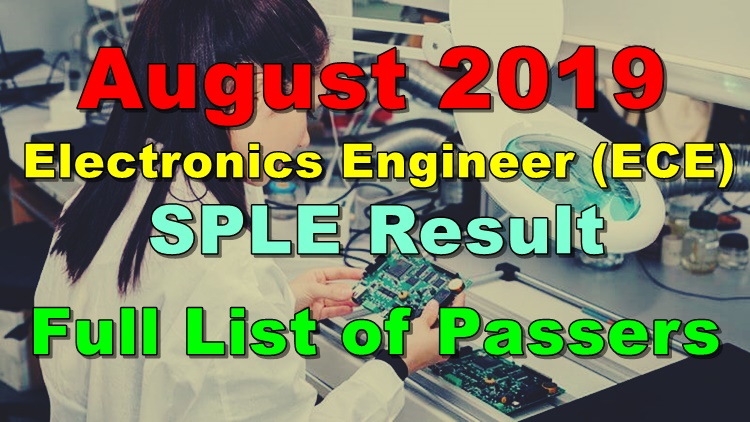 PRC Board of Electronics Engineering headed by its Chairman, Engr. Alnar L. Detalla and its members, Engr. Enrico Claro R. Delmoro and Engr. Herminio J. Orbe administered the licensure examinations.
Here is the List of Passers:
Roll of Successful Examinees in the
ELECTRONICS ENGINEER (ECE) LICENSURE EXAMINATION (SPLE)
Held on AUGUST 12 & 13, 2019 Page: 2 of 3
Released on SEPTEMBER 13, 2019
Seq. No. N a m e
1 AGUSTIN, ISRAEL CORTEZ
2 ALTARES, MEINARD ERNST HERRERA
3 APIAG, ROVEL ALVARICO
4 BAIDIANGO, ROSELLE FAITH ROSAURO
5 BESE, JERRY SALI
6 CASINGCA, LEMUEL BUTLAY
7 CUNANAN, MA-ANN MARTIN
8 GALANG, MARK JAYSON LIBERATO
9 GALVE, JOENELL CARDINO
10 GEROLAGA, JOSELITO LIWANAG
11 GONZAGA, JULIE ANDREW MENES
12 HUGANAS, JAMES ROSARIO
13 LUBRIN, LESTER SALAZAR
14 MAGAT, MODELLEAN BASSIG
15 MONTALES, MARC ANTHONY BACARO
16 NAVARRETE, ANSELMO DE VERA
17 NERONA, JESSIE VILLANUEVA
18 OCAMPO, THERESA JACA
19 ORTULA, JHAN CARL BUIQUIL
20 PARBA, JOSEPH DE VERA
21 QUEDDENG, ELBERT MUTYA
22 ROMERO, PAUL BENJIE PARAGAS
23 ROSIOS, RODRIGO PITOGO
24 SAJOL, JOLIMAR BUTCON
25 TABIL, JESSIE ABLOG
26 TAMAYO, NIKO JAMES TOVERA
27 YDIO, JAZPER VENTURA
NOTHING FOLLOWS———————-
Here are the Top 10 Passers:
Here are the Top Performing and Performance of Schools:
Exam Coverage:
Mathematics
Electronics Engineering
General Engineering and Applied Sciences
Electronics Systems and Technologies
Release Date:
The ECE SPLE results are expected to be released within one (1) to two (2) months after the last day of examinations or from September to October 2019.
Note:
However, the exam results might be released earlier or later without prior notice from PRC.
comment(s) for this post "Electronics Engineer Board Exam Result August 2019 (SPLE)". Tell us what you think abut this post by leaving your comments below.