This Man Disrupts A PBA Game In A Spiderman Costume
SPIDERMAN ATTACKS – The game five of PBA Cup Finals took a weird turn when a man in Spiderman costume decided to join the action.
Pranks can be fun and humorous but it can also be a nuisance, especially if someone else gets hurt or gets in trouble for it. A viral Facebook comment recently, showed how one single prank allegedly caused the termination of one security guard.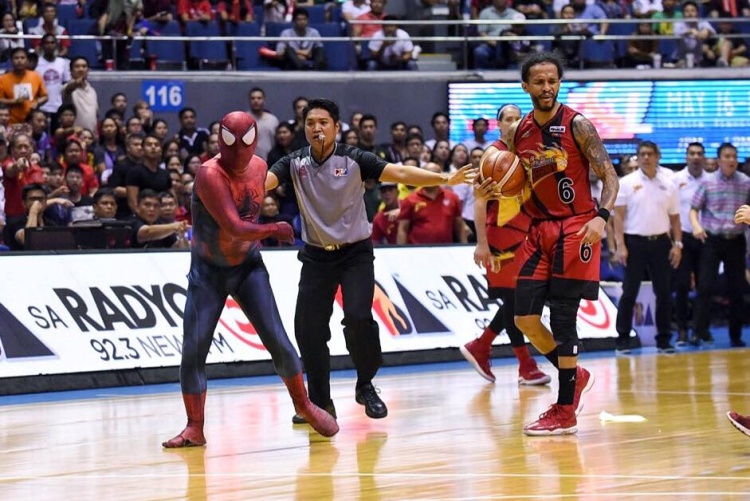 Meanwhile, some basketball fans are still in shock of what happened yesterday.
During the fourth quarter play, the game was stopped when a man dressed in Spiderman costume ran to the Arena's big court holding a placard that says "Vote Love, Love PBA, Love Philippines."
In his attempt to strike the court, he bumped into the center player of San Miguel June Mar Fajardo. He was chased by the Arena's security officials.
"With great power comes great responsibility" is a famous Spiderman quote. The prankster did face great responsibility after he was finally apprehended by the security.
Following the apprehension, the man denied collision with June Mar Fajardo and also claimed that he just wanted to spread the message of love this election season.
This is according to an article from SPIN ph.
The news about the recent strike of Spiderman also reached social media platforms quickly.
After the Spiderman strike, netizens had different reactions towards the incident. Some found the act funny and took it lightly and some took it seriously offensive to the authorities.
"Politics should never be associated with sports. You're in the wrong place, Spiderman." – Facebook user Jose Marco Dela Cruz
"What Spiderman did was wrong in a way, but the way people reacted to this was just cruel. This guy just wanted to spread love and be noticed. I admire his courage to do what he did, but even I agree that he did it on the wrong place and time." – Facebook user Thomas Carandang
The Spiderman-costumed prankster had his face revealed but refused to reveal his identity, just like the real Spiderman.
That is all there is to it, at least for now. We'll post updates as soon as we got them.
comment(s) for this post "Spiderman Attacks: Man In Spiderman Costume Disrupts PBA Game". Tell us what you think abut this post by leaving your comments below.