Translate English To Tagalog – What is the Tagalog of celery?
TRANSLATE ENGLISH TO TAGALOG – Here is the Filipino translation of the English word "celery".
When it comes to vegetables, a lot of us are more familiar with their English terms than their Tagalog counterparts. One of them that is widely addressed in English is the celery.
In this article, we will get to learn the Tagalog term for this vegetable.
What is a "celery"?
According to Collins English Dictionary, celery is a vegetable with stalks that are pale green. It is usually added to vegetable salad and is eaten raw.
 What is celery in Tagalog?
After knowing about the exact meaning of the word, surely many of us want to know the Tagalog translation of the word celery.
English to Tagalog
Celery = Kintsay
Examples of sentences using the word celery:
1. I bought some celery and spinach at the market.
2. Add some celery on your vegetable salad as it is Dane's favorite.
3. Do you like the taste of raw celery?
4. Shawn was not able to purchase some celery so he has to come back to the supermarket.
5. New stocks of celery arrived at the market in Petsville.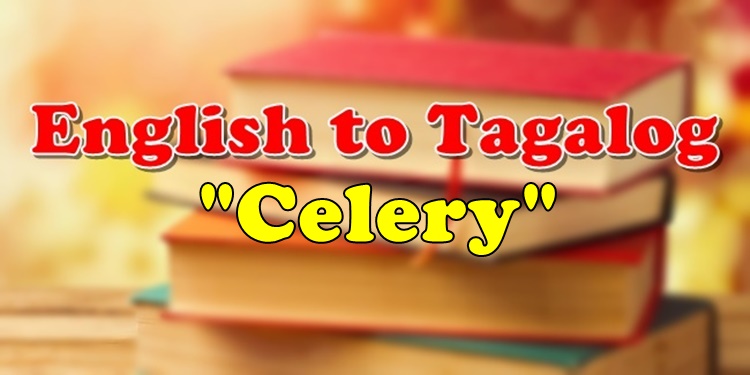 Mga halimbawa ng mga pangungusap na gumagamit ng salitang kintsay:
1. Ayaw na ayaw ni Marcus na kumain ng kintsay kaya itinatapon niya ito.
2. Ilang kilo ng kintsay ang ipapabili mo?
3. Huwag mo nang lutuin ang kintsay para hindi mawala ang sustansya niya.
4. Kumain ka raw ng mga gulay katulad ng kintsay, pechay, at singkamas.
5. Saan ka bumibili ng mga preskang kintsay?
For other English-Tagalog translations…
VISIT: English To Tagalog Translate – List of English-Tagalog Word Translation