The China-funded Kaliwa dam caused the "artificial" water shortage?
Metro Manila and the nearby areas experienced water shortage these past few days, however, some people perceived this as "artificial" in order to justify the China-funded Kaliwa dam.
Amid this crisis, a former employee of Metropolitan Waterworks and Sewerage Services (MWSS) revealed that the solution for this is to open the bypass at La Mesa dam.
MWSS chief regulator Patrick Ty denied that they ordered the closure of the bypass. However, the former employee of the agency, Angel Salazar reiterated that this will solve the problem.
With this, speculations about the alleged anomaly in the water crisis surfaced.
One netizen commented that this is due to the China-funded Kaliwa dam.
Facebook user Lana Langley wrote:
"Perhaps he is a puppet to just push the China-funded Kaliwa dam project. If am right in understanding this has been under JICA before but after Duterte became President this was given to China-funded project. So pranv binibigay n ni Duterte control ng bansa sa China. Payag b kyo maging under China communist rule? Baka i2 n po qng kailangan para mging disiplinado tyo finally? No one's to blame but all of us for we weren't good stewards that we need to be disciplined in this way pa. I can see just by simply observing how we manage our garbage, that's a symptom of an undisciplined country, undisciplined citizen."
Another netizen in the person of Facebook user De Ward Jeung Bi said that the water shortage is not real. For him, it is done just to justify the China-funded Kaliwa dam.
Here is the comment of the netizen:
Trojan Horse.. Kunware meron water shortage. To mention na pumunta ang reporter ng CNNPhil at kinuhanan ng aerial shots at base sa naka usap na na opisyales.. Walang watershortage.

Para lang ma justify ang pag award sa tsina ng paggawa ng dam at madaliin ito.

Collateral damage na naman ang taumbayan..
Hay buhay.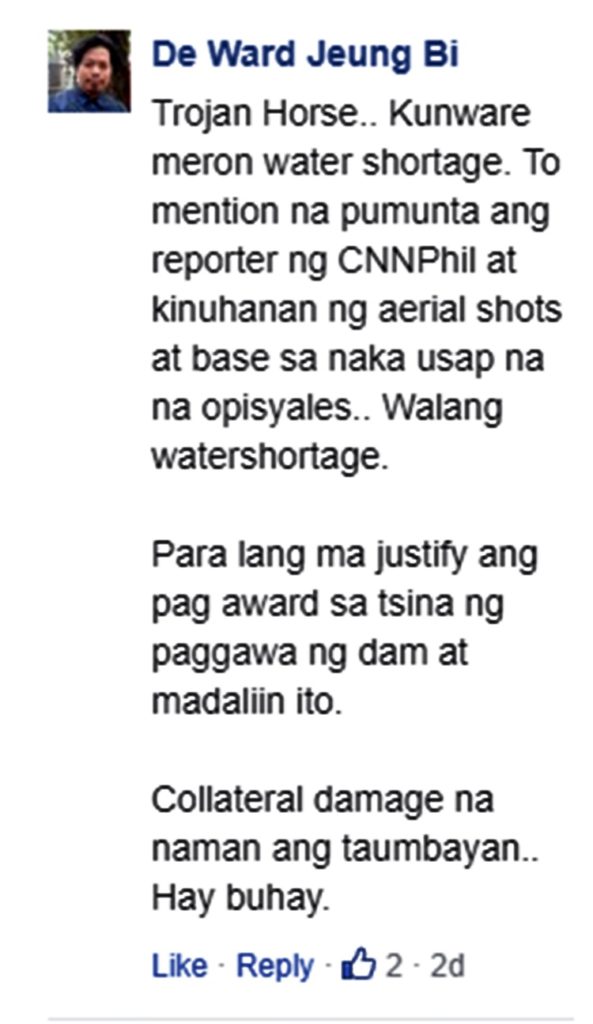 Based on the report from Inquirer, Bayan Muna chair Neri Colmenares wrote a letter to National Economic and Development Authority (Neda) for the transparency of several agreements with China, including that of the P18.7-billion Kaliwa Dam project.
It was said that Kaliwa dam will serve as an alternative for Angat dam which supplies the water for Metro Manila.
Colmenares also said that leaked documents showed that four Chinese-funded projects totaled P205.4 billion and supposedly included the payment of P44.1 billion in consultancy fees.
"They need to explain why the consultancy fees are so huge they exceed 20 percent of the total amount of the loans. They also have to disclose who the consultants are, and if they are the Chinese," he said.
Colmenares called the loan and consultants from China as "double whammy for the Filipino people."
Laos' debt to China
Based on the 2018 article of Nikkei Asian Review, Laos also has a huge debt to China for its dam project.
A portion of the article, stated this:
The increased Lao dependence on one creditor was also noted by economists at the World Bank. In 2012, Chinese debt stood at 35%, but had risen to 44% by 2015, it recorded. Public debt in Laos is now close to 70% of annual gross domestic product, and nearly half that money is borrowed from China.
The Chinese Money Trap
Famous vlogging site Nas Daily better explained the debt of other countries to China in a video.
Watch this.
What can you say about this?
READ ALSO: MWSS Water Shortage: Netizen Exposed Alleged Anomaly
comment(s) for this post "Water Shortage Is "Artificial" To Justify China-funded Kaliwa Dam?". Tell us what you think abut this post by leaving your comments below.