Here is the List of Passers for BAR Exam Results November 2018 (R-Z)
Here is the list of passers (R-Z) for the Philippine BAR Exam Results November 2018 released by the Supreme Court (SC) few months after the examinations.
The list of passers and top 20 passers for the BAR Exam Results November 2018 will be available on this website after it was officially released by Supreme Court of the Philippines.
The BAR examinations were given at the University of Sato Tomas (UST) on all Sundays of November 2018 (4, 11, 18, and 25).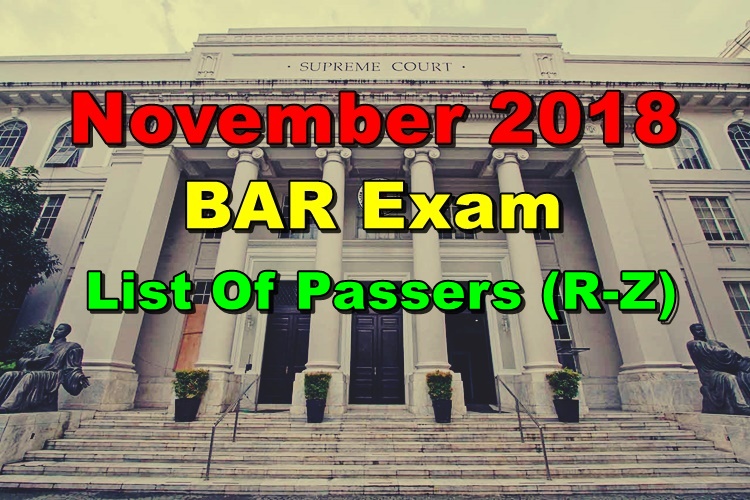 SC Chairman, Mariano del Castillo, Associate Justice and Office of the Bar Confidant headed by Deputy Clerk and Bar Confidant Atty. Ma. Cristina B. Layusa administered the licensure examinations.
SUMMARY OF RESULTS:
Here is the List of Passers (R-Z):
1370. RABANES, Eleazar B.
1371. RABANG, April Joy M.
1372. RABAT, Luisito Emmanuel G.
1373. RABE, Rowell Al P.
1374. RABOCA, Joyce Anne C.
1375. RACOMA, Vincent Paolo B.
1376. RAFIL, Concepcion N.
1377. RAMIREZ, Ariel J.
1378. RAMIREZ, Mary Camille Anne D.
1379. RAMIREZ, Nikko Niņo A.
1380. RAMIREZ, Roge Rose C.
1381. RAMOS, Andre Philippe E.
1382. RAMOS, John Gabriel B.
1383. RAMOS, Juderick C.
1384. RANA, Amir Sherdil A.
1385. RANIAI, Sittie Rhaodda A.
1386. RANIGO, JR., Roger S.
1387. RAPAL, Maria Fraulaine May L.
1388. RATILLA, Remo Ven Gene N.
1389. RAVAGO, Justin Nico L.
1390. RAYMUNDO, Kenneth Q.
1391. RAZONALES, Limuel B.
1392. REAGO, Nigel Carmelo Q.
1393. REALES, Jomer C.
1394. REALISAN, John Paul D.
1395. REBOJA, Wilmamae Lenore M.
1396. REBOROSO, Kirk Roberts P.
1397. REBUDAL, Nathaniel James C.
1398. RECINTO, Neriza Joyce M.
1399. RECIO, Dexter M.
1400. RECUENCO, John Emil F.
1401. RECUERDO, Marisol P.
1402. REGALADO, Katrina M.
1403. REGENCIA, Federic Loise S.
1404. REGENCIA, Nicole Joy R.
1405. REGIO, Ruth Gallile C.
1406. REGIS, Rafayelle A.
1407. REMIGIO, Kristianette Karyll B.
1408. REPOSAR, Barbette Joanne B.
1409. REPOYO, Bernalynne A.
1410. RESUBAL, Edward Anthony V.
1411. RESUELLO, Gerald Bowe M.
1412. RESUELLO, Mark Michael M.
1413. RESURRECCION, Ronnie C.
1414. REY, III, Salvador R.
1415. REYES, Ernest Gene P.
1416. REYES, Jameela Joy M.
1417. REYES, Mark Stephen A.
1418. REYES, Raphael Alexis A.
1419. REYES, Roberto Romalio G.
1420. REYES, III, Domingo D.
1421. REYNALDO, Jeremiah Anthony T.
1422. RIALUBIN-TAPUCOL, Janice R.
1423. RILLO, Jodine Alyssa R.
1424. RILLON, Noelle Grace B.
1425. RIVERA, Carl Joseph N.
1426. RIVERA, Clark Paul A.
1427. RIVERA, Ma. Anne Tonette S.
1428. RIVERA, Wilfredo, Jr. S.
1429. RIVERO, Jenina Angeliez C.
1430. RIZON, Louthera Christie L.
1431. ROA, Pia Angeli B.
1432. ROA, Ron G.
1433. ROA, JR., Marvi Manuel S.
1434. ROBILLOS, Jesse George J.
1435. ROBLE, Cherry C.
1436. ROBLES, Amarra A.
1437. ROBLES, JR., Plaridel A.
1438. ROCILLO, Mariela P.
1439. RODRIGUEZ-SALVAŅA, Judee Mae G.
1440. ROGACION, Raymond R.
1441. ROLDAN, Jason B.
1442. ROLOMA, Angelie Rose F.
1443. ROMANO, Jerwin Richard N.
1444. ROMERO, Kevin P.
1445. ROMERO, Rowell Q.
1446. ROQUE, Christian Ariel M.
1447. ROSALES, Mary Ruth A.
1448. ROSARIO, Maria Raquel V.
1449. ROSARIO, Patricia Kaye T.
1450. ROTAO, Ely Mar A.
1451. ROXAS, Frances Therese M.
1452. ROXAS, IV, Felixberto U.
1453. ROYUPA, Jessa Joy C.
1454. RUAYA, Nichol Jon Burt A.
1455. RUBI, Rizelle Stephanie M.
1456. RUBICA, Czarina Letecia E.
1457. RUDAS, Lady Alfie C.
1458. RUIZ, Mar Conrad U.
1459. RUIZ, Mara Louise A.
1460. RUIZ, Reina Mai R.
1461. RUYERAS, Alona Suzell B.
1462. SABONG, Arthur Eric L.
1463. SADSAD, Azzedine G.
1464. SAGAUINIT, Ferdimar C.
1465. SALA, Rosanna P.
1466. SALAS, April Jane E.
1467. SALAZAR, Angeline B.
1468. SALAZAR, Maria Anne Margareth R.
1469. SALAZAR, Monique Eveleen V.
1470. SALCEDA-MAZO, Winstoney Marie SA.
1471. SALE, Dioscoro E.
1472. SALE, Jan Christiane M.
1473. SALGADO, Mary Antonnete M.
1474. SALIK, Rasul M.
1475. SALIPOT, Magin P.
1476. SALLEY, Gretel M.
1477. SALMITE, Kemuel Rey D.
1478. SALTERAS, Jireh Joshua M.
1479. SALTING, Victorio B.
1480. SALUD, Jose Luis P.
1481. SALUDO, Ted John Paul T.
1482. SALVADOR, Karmela Kate B.
1483. SALVADOR, JR., Eliseo J.
1484. SALVOSA, Paul Junic P.
1485. SAMACO, Lea Aurora P.
1486. SAMANIEGO, Arjane A.
1487. SAN ANDRES, Erica Marie R.
1488. SAN DIEGO, JR., Elmo B.
1489. SAN JOSE, Clarice Joy DJ.
1490. SAN JOSE, Jose Epifanio A.
1491. SAN JOSE, Lorenz DA.
1492. SAN JUAN, Louiegie Thomas M.
1493. SAN PEDRO-MOLINA, Medilyn N.
1494. SANAPO, Ma. Loren W.
1495. SANCHEZ, Aaron Zibeon U.
1496. SANCHEZ, Jose Norberto B.
1497. SANCHEZ, Mark Lester Q.
1498. SANCHO, Winilyn Joei C.
1499. SANCON, Rushid Jay S.
1500. SANDICO, Edsel James C.
1501. SANGALANG, Tracy Joy L.
1502. SANGLAY, Franzetta Faye B.
1503. SANIEL, Philip N.
1504. SANSON, Vanna Katrina T.
1505. SANTELICES, Myrna R.
1506. SANTIAGO, Mark Lawrence A.
1507. SANTIAGO, Martin Kevin P.
1508. SANTIAGO, Nemei S.
1509. SANTIAGO, Niņa Dianne R.
1510. SANTILLANA, Mayrose P.
1511. SANTOS, Aivi P.
1512. SANTOS, Alexis John R.
1513. SANTOS, Jesse Nicole R.
1514. SANTOS, Jose Maria E.
1515. SANTOS, Kimberly Anne C.
1516. SANTOS, Mikhael O.
1517. SANTOS, Nicole Jane D.
1518. SANTOS, Oliver A.
1519. SANTOS, Oliver I.
1520. SANTOS, Salymar V.
1521. SANTOS, Shannon Alyssa L.
1522. SANTOS, III, Jaime Miguel S.
1523. SARABIA, Rex Marcus B.
1524. SARANGAYA, Allan Paul S.
1525. SARCENO, Lovely C.
1526. SARENO, Tonifranz F.
1527. SARMIENTO, Merri Grace L.
1528. SARTE, Katherine C.
1529. SARTILLO, Glenn Niņo M.
1530. SAVILLO, Camille May B.
1531. SAYEN-BORONGAN, Mercedes T.
1532. SAYSON, JR., Eliezer I.
1533. SECERIO, Clarissa Kristen V.
1534. SEDERIOSA, Rio Anne J.
1535. SENO, Stephanie Hariette U.
1536. SERAFIN, Japheth S.
1537. SERGIO, Joas M.
1538. SERRANO, Marianne M.
1539. SERRANO, Martha Rose C.
1540. SESE, Kevin Chris M.
1541. SEVILLA, Jose Carlo O.
1542. SEVILLA, Patricia O.
1543. SIAO, Ma. Karla B.
1544. SIAZON, Nestor Fernando T.
1545. SIBAL, Romilinda C.
1546. SIBAY, Divina Patty B.
1547. SIBLAGAN, JR., Roger C.
1548. SICAT, Patrick John C.
1549. SILVESTRE, Warren P.
1550. SINGH, Mohammad Jameel A.
1551. SINGSON, Melanio Deodoro Benjamin G.
1552. SIOSON, Channelle Florida M.
1553. SIRAJI, Al-rhasid J.
1554. SISON, Sushen Jimbel Mariz M.
1555. SO CHAN, Karl Leslie D.
1556. SOBREJUANITE, Joey P.
1557. SOCRATES, Josemaria Salvador P.
1558. SOKOKEN, Dawn Angeli F.
1559. SOLAS, Samuel Dave O.
1560. SOLDA, Ace Aries C.
1561. SOLEDAD, Ma. Romelda G.
1562. SOLIMAN, Clarisse Nicole V.
1563. SOLIMAN, Nelynne Analiza L.
1564. SOLINAP, Mary Vi M.
1565. SONGALIA, Renee Dominique Eloise N.
1566. SONON, Kristine C.
1567. SORIANO, Bernard L.
1568. SORIANO, Carlo Iņigo D.
1569. SORIANO, Carlo Luigi M.
1570. SORIANO, Christina U.
1571. SORIANO, Marie Paulene A.
1572. SORIANO, JR., Silverio B.
1573. SORITA, Brigette M.
1574. STA. ANA, Marc Lester H.
1575. STO. DOMINGO, Jorell Kent N.
1576. SU, Joshua William D.
1577. SUAREZ, III, Marcial Gerald C.
1578. SUING, Lemarie B.
1579. SULAIMAN, Jaykee N.
1580. SUMAGAYSAY, Rev G.
1581. SUMANDO, Fritzie Lynne C.
1582. SUPAPO, Karen G.
1583. SURABILLA, Katrina Marie C.
1584. SURBAN, Ian D.
1585. SURIO, Ann Caira C.
1586. SUSUSCO, Missela C.
1587. SY, Angelyn H.
1588. SY, Sharlaine T.
1589. SY, Stephanie Ruth B.
1590. SY, Theodore U.
1591. SY CAO YAO, Axel Byon R.
1592. TABANGCURA-ADANZA, Verly M.
1593. TABING, Cristine Mae N.
1594. TACUYAN, Carla Mae F.
1595. TACYO, Nardo C.
1596. TADILI, Mary Jane P.
1597. TAJALA, Sheena Mae C.
1598. TAJAR, Fahima B.
1599. TALAN, Dennise G.
1600. TALAWEC, Christian Van A.
1601. TALAY, Marlyn A.
1602. TALEON, Juan Romulo R.
1603. TALO, Filoryn D.
1604. TAMARAY, Vanessa Grace F.
1605. TAMAYAO, Marvin Jay M.
1606. TAMONDONG, Arlon D.
1607. TAMONDONG, Clarie May M.
1608. TAN, Abegail L.
1609. TAN, Alvin R.
1610. TAN, Ariane Louise A.
1611. TAN, Charmaine Lynn B.
1612. TAN, Danielle Marie C.
1613. TAN, Dwight Garvy B.
1614. TAN, Earnswell P.
1615. TAN, Gillian Cassie C.
1616. TAN, Haydn-joyce Y.
1617. TAN, Jacquelyn M.
1618. TAN, Jayson G.
1619. TAN, Joren Lex A.
1620. TAN, Lance Bryan L.
1621. TAN, Michael Elvin T.
1622. TAN, Raya Grace T.
1623. TAN, JR., Virgil P.
1624. TANAGA, Lloyd V.
1625. TANCINCO, Precious B.
1626. TANGPUZ, Marc Christian H.
1627. TANSINGCO, Noreelie Thessa M.
1628. TAPALES, Charmaine Jill C.
1629. TAPAY, May Sheene Q.
1630. TARROSA, Anna Beatrice S.
1631. TARUC, Albert Jericho V.
1632. TARUCAN, Nikki Albert B.
1633. TAYAMORA, Sherwin E.
1634. TEJERERO, Rolando P.
1635. TENEDORA, Romeo Cisco A.
1636. TEYLAN, Annjeaneth V.
1637. TIAMBENG, Jemimah Nissi M.
1638. TIGLAO, Jose Angelo C.
1639. TING, Iris C.
1640. TING, Kathrine T.
1641. TINGCANG, Crisper Vincent T.
1642. TINGSON, Gregorio Ramon A.
1643. TINGUHA, Roselle Anne Q.
1644. TIPON, John Michael S.
1645. TIU, Jewella O.
1646. TIZON, John Eric C.
1647. TOLENTINO, Ineandro Pedro P.
1648. TOLENTINO, Lenin King F.
1649. TOLENTINO, Nicole Erika A.
1650. TOMARO, Charisse A.
1651. TOME-NAPIGQUIT, Shalimar Mae S.
1652. TONGCO, Nadaine P.
1653. TONGO, Karmela A.
1654. TORCAL, Damaris Joyce S.
1655. TORRES, Karl Edward R.
1656. TORRES, Ma. Roma Amor R.
1657. TORRES, Nathaniel G.
1658. TORTOLA, Nilda M.
1659. TRABOCO, Lia S.
1660. TRIAS, Antoniella Luisa Maria L.
1661. TRIBUNAL, Anne Francisca D.
1662. TRINIDAD, Paolo Ruperto D.
1663. TRINIDAD, Rosanne Kim R.
1664. TROGO, Kara Micaj D.
1665. TSOI, Charla Larraine S.
1666. TUAZON, Ivan Luigi A.
1667. TUAZON, Tweety T.
1668. TUD, Marianne C.
1669. TUGADE, Theresa Marie R.
1670. TUNGOL, Garreth-daniel R.
1671. TUQUERO, Ma. Neiseria Ailah G.
1672. TURIANO, Tristan R.
1673. TUŅACAO, Luz Paciencia L.
1674. UBAY, JR., Romulo R.
1675. UMADHAY, Juniven Rey S.
1676. UNDUG, Ahmad Rais T.
1677. URBAN, Xavier Norbert C.
1678. URSAL, Charisse Gay G.
1679. URUBIO, Ulahmaria Jesusa Nazarene L.
1680. UY, April M.
1681. UY, Arjan Jo V.
1682. UY, Cherlyn Mae D.
1683. UY, Diane Margret V.
1684. UY, Feovie T.
1685. UY, Jed Sherwin G.
1686. UY, Kristine B.
1687. UY, Michael Johnrich S.
1688. UY, Rachelle G.
1689. UY, Ron Mikhail V.
1690. UY, Ryan Aaron C.
1691. VAFLOR, Marcus Aurelian F.
1692. VALDEZ, Carlo P.
1693. VALDEZ, Emmanuelle T.
1694. VALDEZ, Ernest Aaron P.
1695. VALDEZ, Jaylord Ascensio Q.
1696. VALDEZ, Jerico Roy B.
1697. VALDEZ, Sigfred Ray E.
1698. VALDEZ, Vivien Valerie V.
1699. VALDIVIA, Joan Christine C.
1700. VALENCIA, Mary Clydeen L.
1701. VALENCIA, Michaela R.
1702. VALENDEZ, Mikko Gabriel L.
1703. VALENZUELA, Mica Marie J.
1704. VALERA, Alexander Julio V.
1705. VALEŅA, Maria Patricia Arnelle S.
1706. VALLEDOR, Coreine Imee B.
1707. VALLEDOR, John Orion William D.
1708. VALLEGA, Pengie Mae A.
1709. VANSLEMBROUCK, Marian M.
1710. VARDELEON, Solomon Michael P.
1711. VARGAS, Glen Archibald A.
1712. VELASCO, Gian Carlo B.
1713. VELASCO, Mary Zoelli R.
1714. VELASCO, Rene John M.
1715. VELASQUEZ, Nathalie Irene M.
1716. VELEZ, Teodoro Jon A.
1717. VELEŅA, Virtus Gavril D.
1718. VENTURANZA, Maria Q.
1719. VERGARA, Althea A.
1720. VERGARA, Don Melvin N.
1721. VERGARA, Princes Katherine C.
1722. VERGARA, Vanessa Gloria S.
1723. VERGARA, III, Donato U.
1724. VIADNES, Lino P.
1725. VIADUMANG, Darwin S.
1726. VICEDO, Lorena C.
1727. VICENTE-DELOS REYES, Glaiza M.
1728. VIDAL, Pearl Marjorie G.
1729. VIEDOR, Paola Marie C.
1730. VIERNES, Ed Kristopher O.
1731. VIERNES, Wayne T.
1732. VILLACAMPA, Ron Jesus M.
1733. VILLAFLORES, Rosalie M.
1734. VILLAFUERTE, Beatriz C.
1735. VILLAFUERTE, Diana Jean T.
1736. VILLALOBOS-PADUADA, Riza T.
1737. VILLAMANTE, Christian L.
1738. VILLAMAYOR, Krystel M.
1739. VILLAMAYOR, Milcielo Claire S.
1740. VILLAMOR, April Dawn B.
1741. VILLAMOR, Maria Riva R.
1742. VILLAMOR, Raphael C.
1743. VILLAMOR, JR., Alexis Ailex C.
1744. VILLANIS, Milalyn E.
1745. VILLANUEVA, April V.
1746. VILLANUEVA, Ariadne Rauz F.
1747. VILLANUEVA, Artkario Bian L.
1748. VILLANUEVA, Bea Therese P.
1749. VILLANUEVA, Chezkania Eden C.
1750. VILLANUEVA, Dardecs N.
1751. VILLANUEVA, Deborah G.
1752. VILLANUEVA, Ser G.
1753. VILLANUEVA-GRANADO, Venus Leilani M.
1754. VILLARAZA, Reinald Kurt E.
1755. VILLAREAL, Mark Arvill A.
1756. VILLARIN, Maria Luisa S.
1757. VILLARIN, Maria Paula S.
1758. VILLARIVERA, Agnes C.
1759. VILLAROMAN-CATAHAN, Christgilda E.
1760. VILLARUEL, Aura Madonna B.
1761. VILLAVERT, Raphaelo B.
1762. VILLEGAS, Kenn Henri C.
1763. VILLEGAS, Maria Leonila B.
1764. VILLEGAS, William L.
1765. VINO, Paulo I.
1766. VIRAY, Jocelyn V.
1767. VISMANOS, JR., Pascual E.
1768. VISPO, Virson A.
1769. VISTO, Ian Rex M.
1770. VITO, Jeremiah A.
1771. VITO, Michael Allan Poe C.
1772. VITUG, Jonathan B.
1773. VITUG, Ruby Lucielle S.
1774. VIŅAS, Joyette A.
1775. WANGET, Ranjan Kalyl U.
1776. WIJANGCO, Erika Diane M.
1777. WONG, Elaine O.
1778. YABON, Bernadeth S.
1779. YANO, Glenda A.
1780. YAP, Christopher Henry M.
1781. YAP, Jan Philippe B.
1782. YAPIT, Clyde Ciddrick S.
1783. YARCIA, Lee Edson P.
1784. YARISANTOS, Jenivie G.
1785. YLANAN, June Erek C.
1786. YOU, Jerico Gail M.
1787. YPARRAGUIRRE, Rey P.
1788. YSMAEL, Johayra C.
1789. YU, Ralph Samuel T.
1790. YULO, Juan Bernardo Z.
1791. YUMUL, Wally Ann D.
1792. ZABALA, Benjie D.
1793. ZAFE, John Dominic Z.
1794. ZAMORA, Joed Marice V.
1795. ZAPANTA, John Yuri
1796. ZAPATA, Joseph Samuel V.
1797. ZARA, JR., Loreto Z.
1798. ZERRUDO, Danielle Jay M.
1799. ZOLINA, Jarena Ria Z.
1800. ZOZOBRADO, James Adam S.
Exam Coverage:
(November 4, 2018)
Political Law and Public International Law
Labor and Social Legislation
(November 11, 2018)
(November 18, 2018)
Mercantile Law
Criminal Law
(November 25, 2018)
Remedial Law; and
Legal and Judicial Ethics and Practical Exercises
Release Date:
The Philippine BAR Exam Results are expected to be released within 4-5 working months after the last day of examinations (March to April 2019).
Note:
However, the exam results might be released earlier or later without prior notice.
comment(s) for this post "BAR Exam Results November 2018 – List Of Passers (R-Z)". Tell us what you think abut this post by leaving your comments below.