Does Chavit Singson have two(2) dozen or three(3) dozen children? Businessman Responds
CHAVIT SINGSON – Business giant and former Ilocos Sur Governor Luis "Chavit" Crisologo Singson revealed that he has two(2) dozen children.
One of the most prominent personalities in the field of business is Chavit Singson. It is no secret to the public that he is one of the wealthiest Filipino owning so many huge companies.
Singson plays big roles and has several connections in the different industries. In fact, after Catriona Gray won the Miss Universe 2018 crown, he is one of those who met with the beauty queen.
Chavit Singson is also close to Sen. Manny Pacquiao and his family. He was present in several boxing fights of the Filipino boxing champ.
Surely, knowing he is one of the wealthiest Filipinos, many people are curious as to how rich Chavit Singson is, how many children does he have, and a lot more about the businessman.
Recently, The Philippine Star's Wilson Lee Flores had an interview with the business giant. During the said interview, he answered questions about his businesses, his children, and as well as Miss Universe 2018 Catriona Gray.
Chavit answered in the negative when asked if he's courting the Miss Universe 2018. He stressed that she deserves the crown as she's very "confident, intelligent" and beautiful.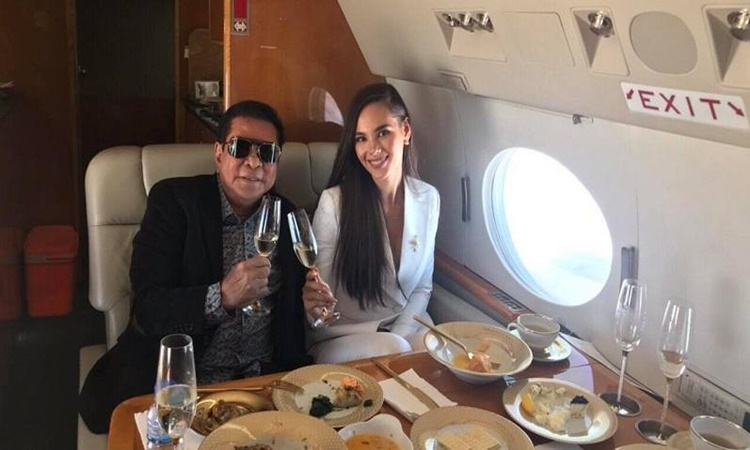 Based on the report, when asked whether he has one, two, or three dozen children, Chavit Singson expressed that he has two dozen children and then laughed.
One of the daughters of Chavit whispered to Flores that he has a four-year-old child.
With regards to his estimated net worth, the businessman-politician admitted that he cannot estimate it. According to him, he has more than 100 companies which are all successful.
What can you say about it? You may express your thoughts or reactions through comments below.
READ ALSO: Chavit Singson Gives Away Money in Narvacan, Ilocos Sur