Phivolcs Lowers Alert Level of Kanlaon Volcano
KANLAON VOLCANO – The Philippine Institute of Volcanology and Seismology (Phivolcs) lowered the alert level status of the Kanlaon Volcano in Negros.
In the Philippines, the institution tasked to monitor and give updates on earthquakes, volcanic activities, and tsunamis is Phivolcs. The institution is the one that releases bulletins to the public regarding the aforementioned natural calamities.
Previously, Phivolcs set the status of Kanlaon to Alert Level 2 or moderate level of unrest. After some observation, the institution has recently decided to lower the alert level status of the said volcano.
On the recent Kanlaon Volcano bulletin that Phivolcs released, it is stated that the alert level status of the volcano is lowered from Alert Level 2 into Alert Level 1 or low level of unrest.
Based on the bulletin, the lowering of Kanlaon's alert level status to 1 means the "observational parameters have returned to low levels". Furthermore, it is also stated that "no magnetic eruption is foreseen".
Here is the bulletin issued by Phivolcs regarding Kanlaon's alert level status: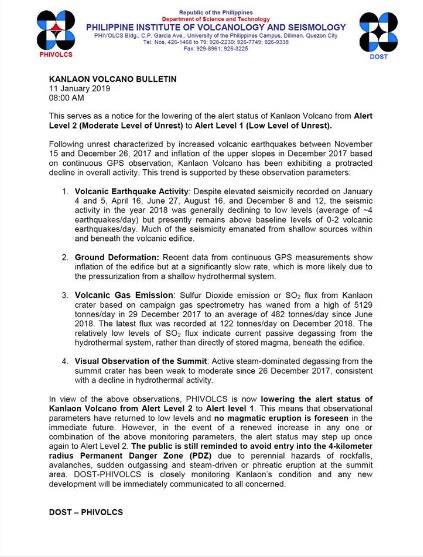 We'll keep you posted for further updates from Phivolcs. Thank you for visiting our website. You may leave your thoughts, reactions, or suggestions through the comment section below.