Here is the Complete List of Passers for NAPOLCOM Exam Results October 2018
Here is the full list of passers for NAPOLCOM Exam Results October 2018 released by the National Police Commission (NAPOLCOM).
The official list of passers and top 20 passers for PNP entrance and promotional exams of NAPOLCOM will be posted on this website after it was released.
The examinations cover the qualifying test for PNP positions including Police Officer 1, Police Officers 2 and 3, Senior Police Officer (SPO1 to SPO4), Police Inspector (Inspector and Senior Inspector), and Police Superintendent (Chief Inspector and Superintendent).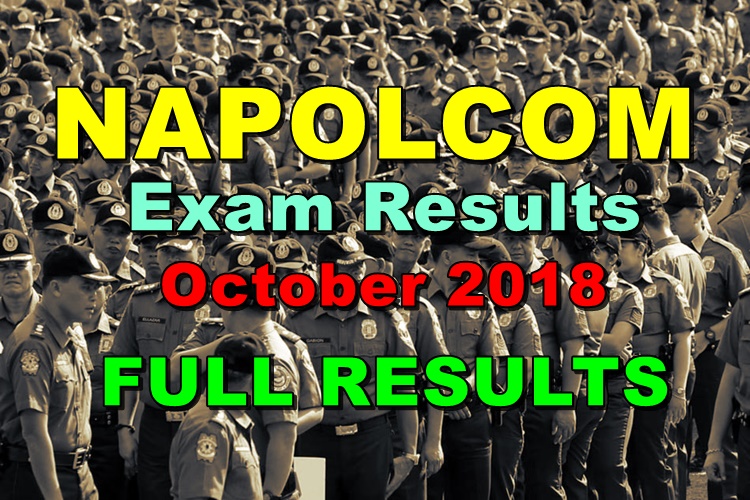 SUMMARY OF RESULTS: 
NAPOLCOM administered the PNP entrance and promotional exams at testing centers in the National Capital Region (NCR) specifically in Makati High School, Pitogo High School, Benigno Aquino High School and Fort Bonifacio High School, all in Makati City, San Fernando (La Union), Tuguegarao, Angeles (Pampanga), Cabuyao, Imus, Baguio, Calapan, Legazpi, Iloilo, Cebu, Tacloban, Calbayog, Pagadian, Zamboanga, Cagayan de Oro, Davao, Mati (Davao), Koronadal, Butuan, Cotabato, and in the province of Tawi-Tawi (ARMM) on October 21, 2018.
Target Date of Releasing Results:
The NAPOLCOM Exam Results are expected to be released within three (3) months after the last day of examinations or by January to February 2019.
Note:
However, the exam results might be released earlier or later without prior notice from NAPOLCOM.