DDS reacted to the alleged mean tweet of 'Buy Bust' director Erik Matti against President Duterte
'Buy Bust' director Erik Matti received criticisms from the DDS or Die-hard Duterte Supporters for his alleged tweet against the Chief Executive.
The director allegedly slammed those who voted for President Rodrigo Duterte during the 2016 presidential election.
On the August 1 Facebook post of netizen Jefry Tupas, a screen shot photo of the tweet from the 'Buy Bust' director was shared.
The Twitter post said:
"In case you haven't read my tweets before, I'll say it again: 'Sa lahat ng bumoto, putang ina nyo!' Isa pa: "Putang ina nyo!'"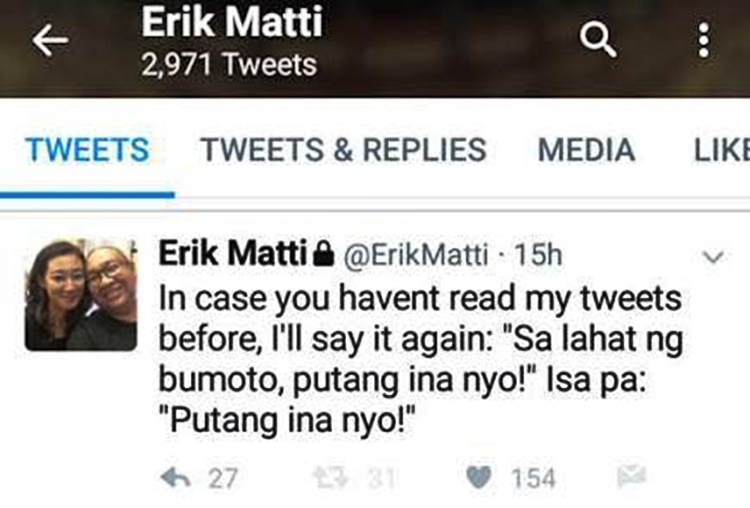 The netizen captioned his post with sarcasm as she called out to his fellow DDS.
"Mga ka-DDS, showing na po today ang Buybust ni Ms Anne Curtis. Film po ito ni Direk Erik Matti. Ang balita ko, ang working title ng film ay: "Sa lahat ng bumoto kay Duterte, p****g ina nyo!" Suportahan po natin ito."
Tupas wrote on the post script that the movie director has tweeted that last year.
In line with this, the supporters of the administration's leader expressed their rage against the attacking comment of Matti.
Facebook user Jonathan Watson felt dismayed that a decent director like Matti would ever tweet that kind of words while Facebook user Peng Alino said that they will boycott 'Buy Bust'.
Furthermore, Facebook user Mg Jocson said that she lovingly voted for Duterte and Matti is just bitter because his candidate did not win.
Some netizens just laughed about it and said that they will support the pirated dvd of the director's movie while some cursed back at him.
One netizen in the person of Facebook user Albert Egot Jr. proudly showed that international star Brandon Vera, supports the administration.
As of the writing, the tweet of the 'Buy Bust' director has more than 700 shares already.
https://www.facebook.com/photo.php?fbid=1310006575802682&set=a.128427243960627.24250.100003800558552&type=3&theater