Here Is The Complete List Of Passers For May 2018 CPA Board Exam Results
The Professional Regulation Commission (PRC) was about to release the official results of May 2018 CPA Board Exam with over 10, 234 examinees.
The official list of passers, topnotchers, top performing, and performance of schools for the May 2018 Certified Public Accountant (CPA) board exam will be available on this site after it was released by PRC.
The Professional Regulatory Board of Accountancy (BoA) administered the licensure examination at various testing centers in Manila, Baguio, Cagayan De Oro, Cebu, Davao, Iloilo, Legazpi, Tacloban, and Tuguegarao on May 13, 20, & 21, 2018.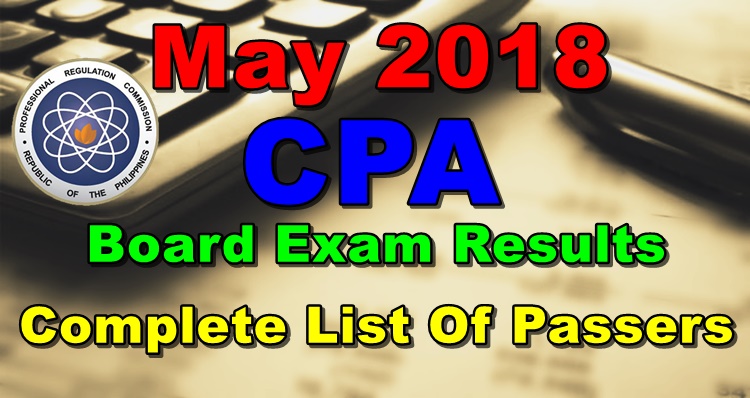 SUMMARY OF RESULTS:
The licensure examination was given by PRC Board of Accountancy headed by its Chairman, Joel L. Tan-Torres and its members, Eliseo A. Aurellado, Gerard B. Sanvictores, Gloria T. Baysa, Concordio S. Quisaot, Samuel B. Padilla and Arlyn S. Villanueva.
Exam Coverage:
Auditing
Management Advisory Services
Taxation
Regulatory Framework for Business Transactions
Financial Accounting and Reporting
Advanced Financial Accounting and Reporting
Release Date:
The official results of May 2018 CPA Board Exam are expected to be released within four (4) working days after the last day of examinations or on May 25, 2018 (Friday).
Note: However, the examination results might be released earlier or later without prior notice.