Arrogant Lady Cherish Sharmaine Interior Who Slapped Taxi Driver Issues Public Apology
The arrogant lady who slapped an old taxi driver has finally issued a public apology through posting it on her Facebook account.
The video clip of an arrogant lady named Cherish Sharmaine Interior who slapped an old taxi driver has been the headlines of several local news outlets and social media pages.
The woman receives criticisms and negative feedback from the social media users because of her cruelty and rudeness towards the helpless old man.
https://www.facebook.com/joshua.baluyot.58/videos/1612960475409295/
Recently, the Facebook user named Cher Shar claiming that she was Cherish Sharmaine Interior has issued a public apology for her irresponsible actions towards the taxi driver.
The rude woman apologized to the public for slapping and humiliating the old, but she urged the bashers to spare her relatives, office, and workmates for they are not involved in the incident.
Interior said that she is willing to face the consequences of her actions and believes that deserves it. She was also hoping that the public would accept her apologies.
Here's the full post:
"Somebody reported my spare facebook account and copied my apology on their Facebook page.
This is Cherish Sharmaine Interior. I repeat, I have no Facebook page. I'm not that dumb to create a fanpage, post the pictures of myself and my boyfriend, then post more hurting messages pa to add insult to injury or to make you hate me even more.
I have published an apology which was copied by that Facebook page but the truth still remains: I AM SORRY.
Spare my relatives, my office, and my workmates. Someone tagged the name of the company I work in and commented on some of the posts there. Please leave them alone. And please, those people who also have an Interior surname, and who you guys are bullying are not in anyway related to me.
If you want to bash me, I am willing to accept that. Just leave the innocent people alone. I am doing things to make up for my mistake, trying to reach out to manong taxi driver. I am facing an imminent termination and possibly blacklisting to other companies, and I hope you guys are happy. I believe I deserve it, but please accept my apologies."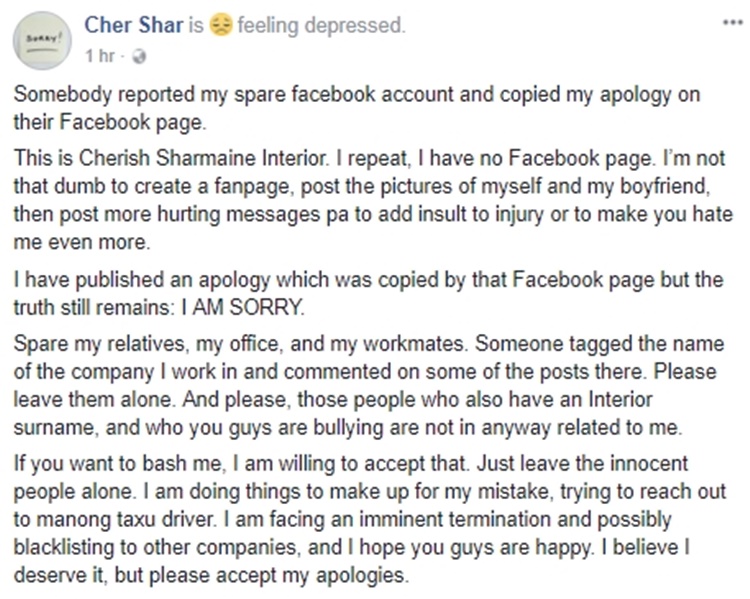 What can you say about this? Just feel free to leave your comments and reactions to this article.
You can also read Rude Woman Who Slapped Old Taxi Driver Could Be Jailed, Experts Says