The Professional Regulation Commission (PRC) has listed down several steps for the renewal of Professional Identification Card (PIC).
Here are the steps provided by PRC:
Step 1: Ensure that you have complied with the CPD requirements
(UPDATED) NOTICE: Compliance with Continuing Professional Development (CPD) Act Of 2016
| PIC Renewal Period | Minimum Credit Units Required for the Profession |
| --- | --- |
| January – June 2017 | 0 |
| July – December 2017 | 30% |
| January – December 2018 | 60% |
| January 2019 – onwards | 100% |
Step 2: Visit the official website of PRC at www.prc.gov.ph to set up an application for renewal of PIC.
Step 3: If you don't have an account, by filling out the information needed. Then click the SIGN UP NOW button and if you already have an account, sign in by entering your username and password.
Step 4: After you sign in, just provide additional information to complete your profile.
Step 5: Then select TRANSACTION and select RENEWAL, once your profile has been completed.
Step 6: Choose the location where you want to claim your PIC.
Step 7: After selecting the location, choose an appointment date on when you want to claim your PIC.
Step 8: Choose what payment option would you like.
Step 9: Upon the verification of your payment, go back to your account, print the renewal form and present it to the PRC registration officer including proof of CPD compliance upon claiming of PIC.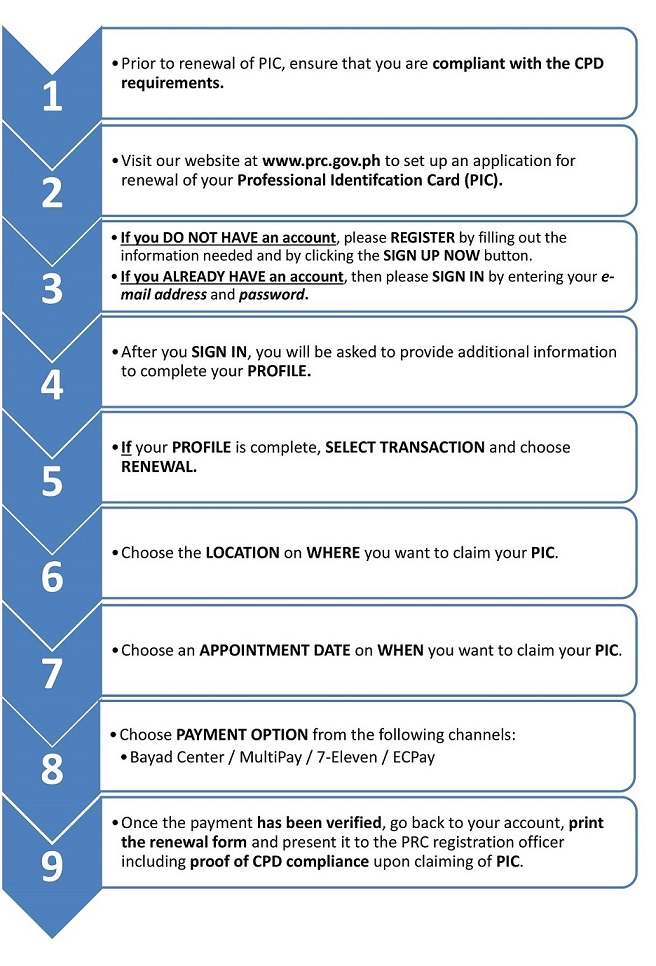 Note: For more news and updates released by PRC, visit our site often.