Vice President Leni Robredo draws flak on social for reposting a photo of a relief operation in Surigao.
A certain Facebook user named Jake Miranda took to social media and posted a photo of a truck of bottled water that was delivered to the quake victims in Surigao.
In his Facebook post, he thanks the people who helped the victims in Surigao and mentioned Vice President Leni Robredo.
His post did not get noticed until the Office of the Vice- President re-posted the photo of a relief operation in Surigao on the official Facebook page of Leni Robredo.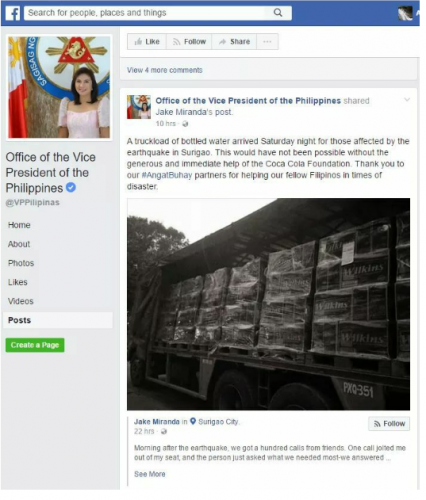 The post was then removed from the page after it draws flak on social media.
As of writing, the post caught the attention of the netizens on the social media and gained 2,404 shares.
Thinking Pinoy was reportedly the first to noticed that there is something wrong about the post. The page then posted a meme to point out that the office of the vice president has nothing to do with the bottled water delivery to the quake victims.
The post gained so much attention. In fact, another Facebook user named Krizette Laureta Chu scolded OVP for credit-grabbing.
https://www.facebook.com/photo.php?fbid=10155035286654712&set=a.10150163058269712.308992.779864711&type=3
Based on the updated post of Jake he insists that the Office of the Vice President has indeed made the bottled water donation and sought the assistance of Coca-Cola.
"For the ignorant. I am an active local citizen, volunteer, etc. VP staff called me early on Saturday morning asking for need, and I relayed 'drinking water. VP sought the assistance of Coca cola foundation and a truck of water was immediately dispatched from a nearby city and same day Saturday night," Jake wrote.
"No fanfare. It was the first donation to arrive so I checked source and learned VP facilitated. Tell me, would Coca-Cola Foundation be quick to deliver water without someone directing? City promptly distributed 3 30 cases and 90 cases left is earn marked for one whole barangay. SO THERE," Jake added.
The Facebook post caught the attention of the netizens and earned different reactions from other social media users.
Furthermore, Coca-Cola also releases their official statement about the issue saying that the drinking water was distributed through the efforts of the local government, with the assistance of Coca-Cola FEMSA Philippines pre-sellers, 301B personnel of the Philippine Army, and the Department of social welfare and Development.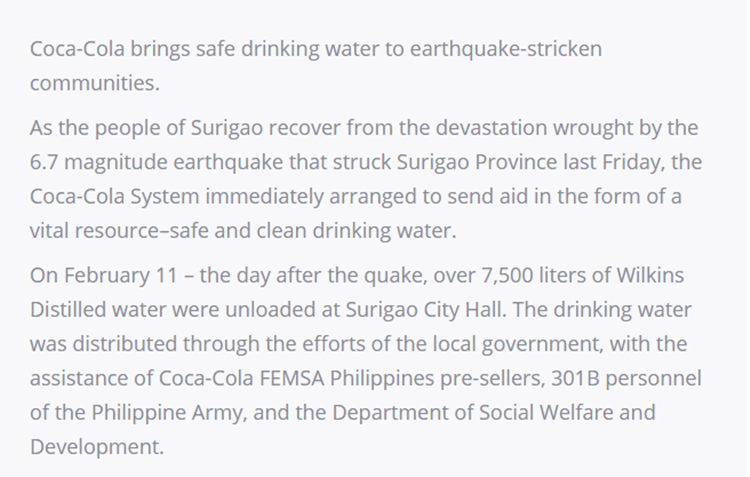 After the post went viral, other social media users were asking, whose telling the truth?