How Rich Mr. Chavit Singson Really Is?
Chavit Singson has been in the news these past weeks because of Miss Universe 2016 Pageant that was held in the Philippines.
Chavit Singson was said to be the mainly responsible for bringing back the biggest International pageant in the country. As Pinay beauty queen Pia Alonzo Wurtzbach was crowned as Miss Universe last 2015.
Many Filipinos launched campaigns to bring the pageant to the Philippines after Pia won the title.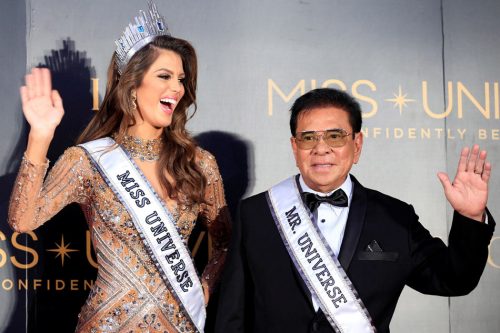 Photo credits to: Romeo Ranoco, ReutersMany Filipinos are wondering just how rich Singson really is.
Luis "Chavit C. Singson is the former governor of Ilocos Sur and the Chairman of the LCS Group of Companies.
He is mainly responsible for the proposals of bringing Miss Universe in the country. According to a report of Balitangtrending.com, when Singson was asked about how can he afford the expenses for hosting the biggest International pageant of the world, he said, "There are a lot."
In an exclusive interview with Singson, he revealed that he earned millions a month and he makes billions per year.
"My net revenues amount to about Php120 million a month. There are a lot.
I have many businesses that earn millions. The construction, I make billions; the transportation, I'm netting around Php100 million a month; I've earned Php1 billion from that in previous years, just for transportation," he said.
Chavit Singson was also known for his 80–hectare interactive wildlife sanctuary that become a popular tourist destination in the Province of IIocos Sur.
Singson has been in the news after President Duterte opposed the plans of bringing the pageant in the country and the proposal was brought to his attention by his project managers.
He reportedly accepted the project proposal because it's good for the country's tourism.
Singson said that Miss Universe Organization asked for a non-refundable fee of $1 million upfront.
He initially balked at the steep price tag attached to hosting the pageant. He was reportedly spent millions of pesos just to buy the luxury yacht that ferried some of the Miss Universe Candidates between Manila and Batangas province.
Singson was also responsible for some of the expenses for the pageants which includes accommodation, transportation, candidates and production staff and other expenses.
Because of his long years stayed in the politics, it's inevitable that many people would think that his wealth arose from using his influence and political position.
Despite this accusations, Mr. Chavit Singson insists that his wealth were not from illegal activities or corruption but from his legitimate business activities.