The president has secured record of Dayan's phone calls and ATM transactions intercepted by an ally country.
President Rodrigo Duterte cannot comprehend why Senator Leila De Lima is so afraid that her driver, Ronnie Dayan, would be used as a witness against her.
Dayan was name-dropped by Duterte in his speech earlier to be De Lima's bagman or the one who fetches the drug money at the New Bilibid Prison (NBP) which funded her senatorial campaign for the May 9 elections.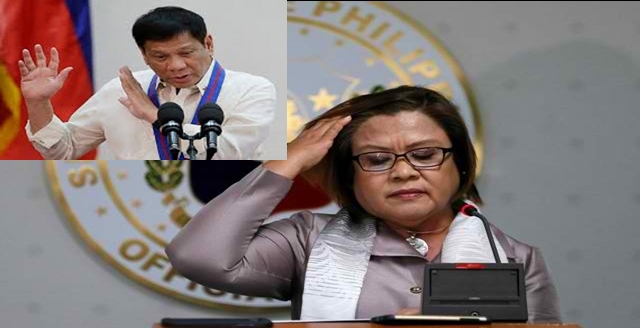 Duterte said De Lima should not fear about Dayan's to-be statements has she not anything to hide because she can even use it to deny all the allegations linking her to the illegal drug trade.
The chief executive order added that he has secured copy of records of "intercepts" or phonecalls monitoring of an ally country regarding Dayan's communication with someone in the Bilibid.
He has even secured the intercepts of ATM transactions of the driver from the NBP but he admitted that these could not be used as evidence in the court of law because of the Anti-Wiretapping Law in the country.
The senator also has to explain her attendance in a birthday party of a high-profile inmate in the NBP where she went with her driver. Duterte said it can be used to link her with rug lords in the jail.
"You know, De Lima might , we cannot use it as evidence at all because that would be illegal and I would not say that I was the one who made the intercepts. It was given to us free by another country from … Even the ATM and the calls emanating from Muntinlupa to his driver. And I told the De Lima, "De Lima, I was listening to you." And if she would face me, kaming dalawa lang, the two of us and I would tell him, "Explain to me your immorality and explain to me your explain to me your connection to the drug deal. And why is it that during the birthday of one high profile inmate, you went ahead inside with your driver and celebrating with the rest of the inmates, the party inside the prison?", said Duterte.
On the part of Congress, House Deputy Speaker Fredinil Castro echoed Duterte's stand on Dayan to go as a witness.
Castro said the neophyte senator could also benefit from including Dayan in the investigation because his (Dayan) statements can directly deny all allegations against her.
Castro assured that the House of Representatives is open for the senator to attend in the investigations.
However, he emphasized, that De Lima can invoke the prevailing inter-parliamentary courtesy between the houses of Congress.