Carlos Celdran Calls Filipinos to Sign "Change.org" Petition

The controversial social media personality and a known Anti-Duterte cultural activist Carlos Celdran announced on his Twitter account that he created a petition on "Change.org" against incoming President Rodrigo Duterte.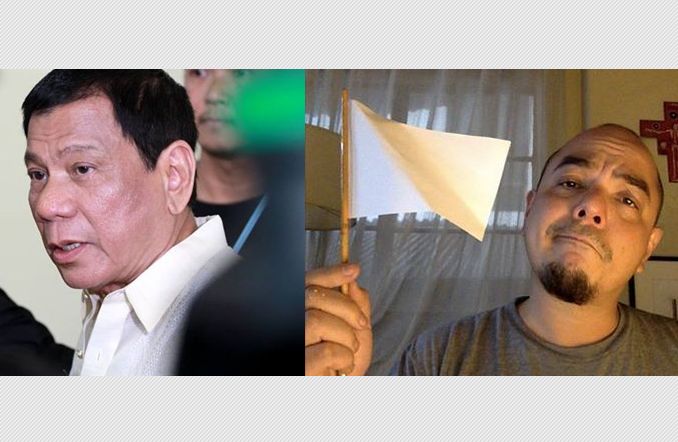 The veteran tourist guide in Intramuros invites everyone to join his petition to make President Rody Duterte resign even before the newly-elected president by more than 16 million Filipino citizens could assume his duty as head of state.
Carlos Celdran claimed that Mayor Rody Duterte, the first and only president from Mindanao have already proven he was not worthy, stable and fit to run a nation of 100 million people.
During the campaign period the veteran tourist guide in Intramuros earned the ire of netizens who supported the candidacy of Mayor Rody Duterte for his various statement against the presidential candidate but later on he apologized for his statement particularly his tagging of Duterte supporters as "Dutertards."
Here's the Complete Statement of Carlos Celdran on His Petition at Change.Org:
President-Elect Duterte: RESIGN. Do not take the Job.
It's less than a month away from your inauguration as the 16th president of the Republic of the Philippines and you have proven yourself as unworthy, unstable, and unfit to run a nation of 100 million people.
In the past weeks you said that erring journalists deserve to die, disrespected woment at your press conferences, used hommophobic language, appointed a foreign secretary willing to compromise Philippine sovereignty to China, appointed a DPWH secretary who has interests in real estate development, insulted the United Natons, Singapore, Australia, the Pope, and people with disabilities. You also admitted that Ferdinand Marcos Jr. was your real alliance politically.
Finally, your constant surreal midnight press conferences have shown us all that you are ill-tempered, erratic, perverted, and a proud advocate of human rights violations.
You yourself have said that you will not die if you weren't president. As a man of honor, keep your word. Do not accept the job as President of the Philippines. Please resign. Now.
Thank you.
Source: Change.org/Carlos Celdran Twitter
comment(s) for this post "Carlos Celdran Initiates "Resign Duterte" Petition On Change.Org". Tell us what you think abut this post by leaving your comments below.