Duterte Finally Reveals Bank Account Balance From 2014
Davao City Mayor and presidential candidate Rodrigo Duterte now reveal a certification of his account balance on March 31, 2014 in the Bank of the Philippine Islands. This is in due to the allegations by Sen. Antonio Trillanes IV about the millions and even billion of the mayor.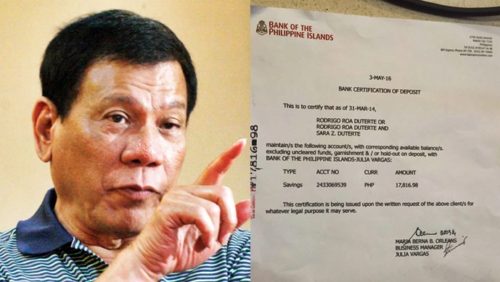 In a report by GMA News, Duterte presented the certificate showing that his balance on March 31, 2014 was P17, 816.98.
Duterte shows bank certification from BPI-Julia Vargas, as of March 2014 pic.twitter.com/xoC3WrXfAc

— Trisha Macas-Joyas🌷 (@trishamacas) May 4, 2016
Sen. Trillanes recently accused the mayor of having an account amounting of P200 million deposited on his account as "gifts".
That's why, Trillanes asked a transaction history that will disapprove the claims of the senator about the P2.4 billion worth of transactions in the joint account of Duterte and daughter Sara.
Another account was presented wherein there is a P17,766.98 as of Dec. 31,2014 and a P74,734.30 as of April 29, 2016.
Now, according to PhilStar, as of May 3 2016, the same account in the BPI Branch has already had a total of P128,829.34. This is due to the deposits made by the supporters of Duterte.
Another accusation made to him by Trillanes is the existence of a dollar account.
Duterte admitted it but, the bank certified that the account has $5,021.70 as of March 31,2014. He also said that the only existing deposit on the account was the recent deposit of his rival candidate, Mar Roxas.
He said that Roxas' camp deposited $10 to prove that the account exists.  Roxas then challenged Duterte to show details about his wealth.
The Davao mayor then brought a balance statement of the dollar account to prove that there are no transactions made in the account.
But, according to the report, the statement given by Duterte has not covered the 2015 balance statements.
What can you say about this?
Share us your thoughts and comments below. Thank you so much for dropping by and reading this post. For more updates, don't hesitate and feel free to visit our website more often and please share this to your friends.