Nash Racela the head coach of the Far Eastern University Tamaraws wants his boys to finish the best-of-three championship series against the determined University of Santo Tomas Growling Tigers today at around 3:30 PM. The Game 2 of the UAAP Finals will be held at the Smart Araneta Coliseum.
See Also: UST Defeats FEU in Game 2 Extends Series to Best-of-Three
UAAP Finals Game 2: FEU vs. UST Live Coverage:
Scores: FEU vs. UST
FEU – 56 vs. UST – 62 (Final Score)
FEU – 41 vs. UST – 47 (End of Third Quarter)
FEU – 32 vs. UST – 32
FEU – 26 vs. UST – 20
FEU – 23 vs. UST – 18
FEU – 20 vs. UST – 18
FEU – 20 vs. UST – 13 (End of First Quarter)
FEU – 18 vs. UST – 11
FEU – 15 vs. UST – 11
FEU – 10 vs. UST – 6
FEU – 5 vs. UST – 6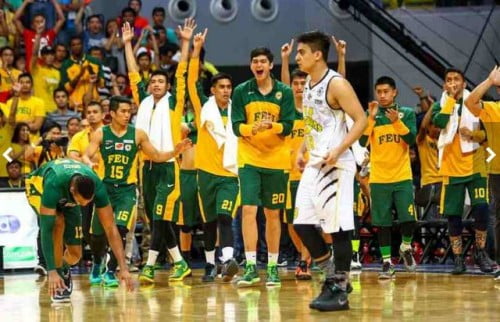 The FEU Tamaraws is now having a one-game advantage as the defeated the Tigers in Game 1 spearheaded by their superb rebounding and clutch shots. The Tamaraws dominated the Tigers through the leadership of FEU's Big Three Mac Belo, Chester Tolomia and RR Pogoy.
Once the Tamaraws win the Game 2 of the UAAP Finals, it will be their 20th title in the history of the UAAP, as they will become the team with the most number number of titles since the foundation of the UAAP Men's Basketball competition.
The UST Growling Tigers on their part wants to extend the series to a do-or-die Game 3 and avoid a loss in the finals for the third time in four years of trying to capture the title. The win over the Tamaraws today will also help extend the careers of graduating Tigers namely Kevin Ferrer, Karim Abdul, and Ed Daquioag.
Here's the Game 2 Live Coverage Between FEU & UST by Rappler:
comment(s) for this post "FEU vs. UST Game 2 UAAP Finals Live Coverage, Scores, Results & Highlights Video". Tell us what you think abut this post by leaving your comments below.